Recently a post written by Glennon Doyle Melton at her blog Momastery spread like wildfire through my Facebook newsfeed. The post, "Give Me Gratitude or Give Me Debt," resonated deeply with me and the other women who were sharing it because it spoke straight to the heart about our tendency to want to keep up with trends. Upon going to bed one night, Melton prayed, "I need new eyes." She awoke the next morning with new eyes that rightly see the multitude of gifts in life that we often take for granted.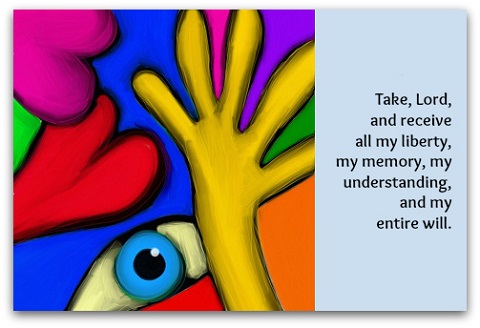 The morning this blog post flooded my newsfeed, I found myself turning to the Suscipe, a prayer begging God to help us see with "new eyes"—eyes of gratitude, detachment, and indifference. My prayer went something like this as I read and re-read Melton's post that day:
Take, Lord, and receive all my liberty, my memory, my understanding, and my entire will. All that I have and call my own, you have given it all to me.
Take, Lord, all that I have and possess. Thank you for what you've given to me: our home, our clothes, our food, our water, our "stuff," our jobs, my kids' education, our education, my memories, my family, my friends, and all that I understand. Give me a heart of gratitude, Lord, for all you have given me.
To you, Lord, I return it.
Everything that I have and possess is yours. Give me eyes that understand that. Lord, keep me from holding on too tightly to anything or anyone. Help me detach from all these things I have and possess.
Everything is yours. Do with it what you will.
Show me how to live and love, Lord. Show me how to spend my money and how to care for my home and my family. Show me how to be unattached from stuff and trends. Help me be indifferent to all that I call my own. Take all that I have, and use it as you see fit.
Give me only your love and your grace; that is enough for me.
I am enough, Lord, because you love me. The trends and things do not define me, nor does my job, nor do my roles as wife or mother. You are what defines me. Who I am in you is who I am, Lord. Give me new eyes.
Amen.Melton, once given her new eyes, says "I'm insanely lucky and I'm finally FREE." That, to me, is the stance that St. Ignatius hoped people would achieve after going through the Spiritual Exercises—that we are extremely lucky (graced) to be loved by God and finally free from all the disordered attachments that keep us from fully embracing the love of God. This is the stance of life I need most as a mother—that I am lucky and free. I often forget that, so I return to the Suscipe time and time again, so God can remind me.