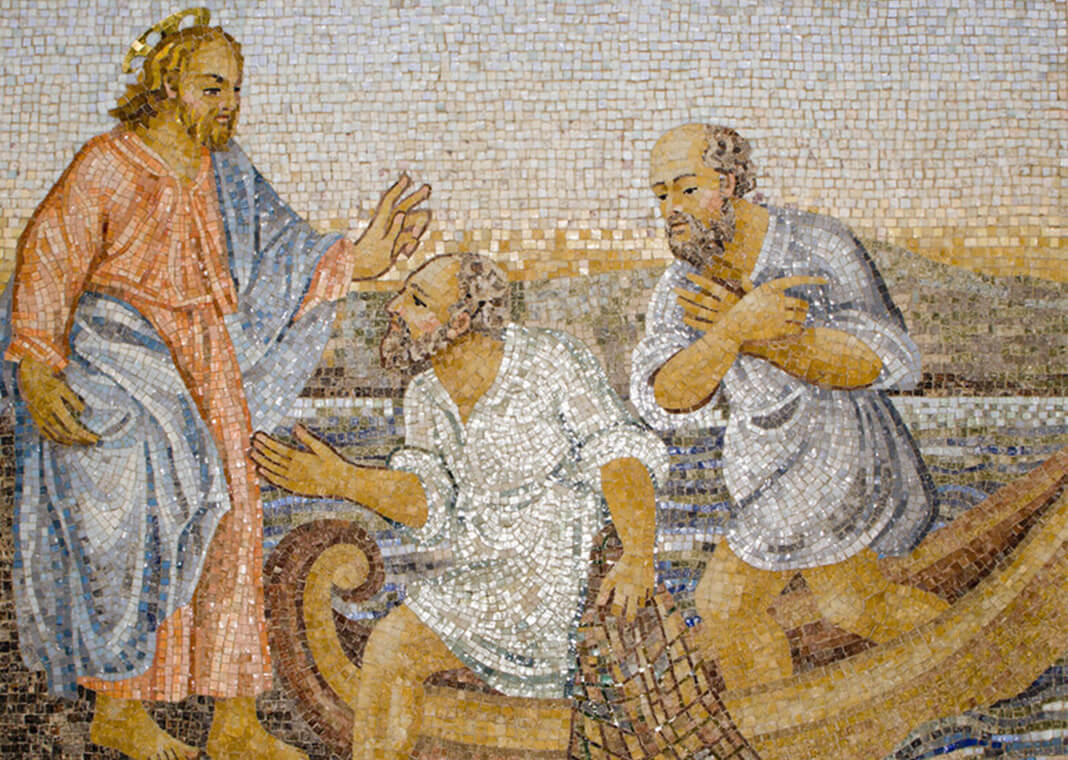 This story is inspired by Matthew 4:18–22.
I'm curious about this Jesus character. As an investigative journalist, I think he'd be a great story, so I've decided to shadow him this morning. We are on the shore of the Sea of Galilee, where the sun is shining strong today. It's a busy place: fishermen pulling their boats into or out of the water, hauling in their nets—some full of fish, others with none. Some fishermen are gutting fish. Others down at the far end of the shore have started a fire and are smoking their catch. Kids weave in and out of the busy-ness and are scolded by the men for getting in the way. The gentle breeze coming off the water is especially welcome, because it helps lessen the overwhelming smell of fish.
Jesus leaves the sand where we were walking and wades up to Simon (Peter) and Andrew. These guys are brothers. They have just cast their nets. Jesus says, "Come, follow me, and I will make you fishers of men." They immediately gather their nets, drop them on the shore, and follow him. I'm struck by their lack of hesitation. How is it that they just drop what they are doing and follow him? Do they already know him? Do they plan to go with him for the morning or for a longer period of time? What do they think "fishers of men" means? I rapidly jot these questions in my little notepad.
Now there are three walking along the shore: Jesus, Peter, and Andrew. They are chatting and joking like they've always known each other.
A little farther up the shore, they come across another set of brothers, James and John. They are sitting in their boat with their dad, Zebedee, mending their nets.
Jesus calls to them, and immediately they leave their boat and their dad. Again, the immediacy of their response is stunning. And Zebedee looks overjoyed that Jesus has called his sons. What does he know? Has he already met Jesus? How can he not be upset that his sons are leaving him? I know he needs their help; he's getting older. I've got so many questions.
We walk a little farther, round a bend in the shoreline. Now there are five: the two sets of brothers and Jesus. They're chatting and slapping each other on the back and having a grand time. It's a warm bunch, and they all seem like old friends. At one point, they start laughing so hard that I start laughing too. Their laughter is completely contagious.
I'm lagging behind a little as I rapidly jot down my questions. Suddenly, Jesus stops, turns around, and looks me square in the eye. "How about you? Are you ready?"
I suppose I've had a little primer on how this is supposed to go, because I've watched the way it went with the two sets of brothers. But I'm still shocked. So many thoughts swirl through my head! Primary among them is the thought that I'm not a fisherman. I'm just along as a journalist gathering facts for a story. But I really like this bunch. And there's something about this Jesus and his eyes. I don't know what exactly it is, but it's irresistible. I'm thinking I might hang around for a while.