What is a temptation, really? We make feeble attempts with ardent effort to overcome our temptations during Lent, but what is it we are really trying to overcome?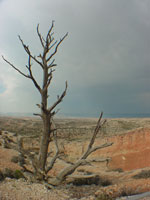 We are trying to overcome those things in our lives that hinder our relationships with God and prevent us from putting God first. So often we try to decide for ourselves what is right or wrong for us without any thought of God's will for us. We naturally turn first to our desires for fun, to our inclinations for busyness, to food or alcohol for comfort, and to others for company.
God often comes behind these things in our thinking and often is not even considered as the source that can calm all of the chaos and desires in our lives. Instead, we put our human desires first, and we find ourselves in a state of restlessness, tiredness, or desolation. We feel lost as to the problem but also to the solution.
When it comes to deciding what is right or wrong for us, we can look to Jesus as our teacher. Jesus was led by the Spirit into the desert and leaned heavily on his Father during his time there. It is only with his Father's help that Jesus was able to overcome the temptations presented to him by the devil. Jesus surely felt the desires of his humanity in the desert—hunger, pride, and power. How ardently he must have fought against his human desires! How weak he must have felt! Jesus understood, though, that his strength to overcome temptations came by turning to his Father and letting God help him decide what was right and wrong for him.
This Lent, we are invited to make that same bold turn toward God. And we do not make this turn alone. Both Jesus and the Spirit are here helping us as we turn to God to give us the strength and wisdom to overcome our temptations.