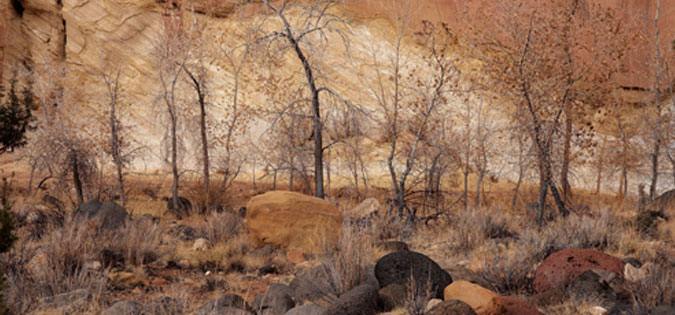 Our prayer lives go through cycles like the seasons of the year. We cycle through spring-like seasons of new life or summer-like seasons of abundance. Today let's turn to what St. Ignatius invites us to do when we are in a season of prayer that feels more like autumn, when what was once abundant begins to wither, or winter, when our prayer life feels dormant.
Keep showing up in prayer! As our prayer life shifts from a season of consolation to one of dryness or desolation, we sometimes are inclined to stop showing up. Perhaps prayer no longer feels as easy as it once did, or maybe our efforts waned when the gift of consolation was no longer there. If we stop showing up, what feels like a season of dryness can turn into desolation and snowball quickly from there.
Beg to get out of it. In our prayer, we can ask God to help us get out of desolation. At times when desolation is intense, this prayer might be something as simple as "Jesus, help me."
Remember the graces from the recent season of consolation. Ignatius invites us to savor the graces while in consolation to carry us through the desolation that he assures us will come. If we were given the grace of peace, trust, hope, wisdom, or clarity, we can remember it and let the memory of it lift us as we continue to show up in prayer.
Revisit past moments of consoling prayer. Was there a Scripture passage that brought you significant consolation? Re-read it. Was there an imaginative prayer experience that provided consolation? Recall it. Was there an encounter with a person who increased your faith, hope, and love? Replay the encounter in your mind. Reminding ourselves of God's work in our lives can help us through a season of desolation.
Talk to someone about it. When we are in desolation, our natural inclination is to want to withdraw and keep it secret. By talking to a spiritual director or trusted friend, we can bring the desolation into the light. The other person can pray for us and with us to carry us through a season of desolation.
With God's help, we can make our way out of a season of desolation. And with God's help, we will hopefully find our way to a new prayer season of spring or summer. Even if we don't, and we remain in a longer season of dryness, we know that no matter what, we keep showing up in our prayer time to be with God.