I entered my silent retreat in a frazzled state of exhaustion. The journey of discernment and transition for the last 18 months had zapped me completely dry. I had my doubts that four short days of silence would provide any respite. Silence, however, allows us the space, the time, and the quiet to ask, "God, what are you trying to communicate to me?"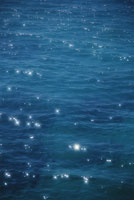 As I meandered for hours along the shore of the lake at Montserrat Jesuit Retreat House, my soul drank deeply of the beauty of God's surroundings and the constant laboring God does for all of creation. The silence allowed me to notice the world alive with God's creating power as the waves gently came on shore and as the lake provided homes and sustenance for a wide variety of animals.
I drank deeply of God's creation, and as I did, I felt the slow return to stillness, to calm, to my inner core where God infinitely resides. As I re-entered that holy space within, I felt the love of our gentle Father reminding me that he has been laboring for me and with me these past 18 months. With that simple grace I was renewed within, and I felt the hum of inner peace that comes only from God.