My sunflowers are blooming again. I was afraid I would miss them this year with our upcoming move to Texas. For weeks, I gazed at them, urging them to hurry up and begging them to give me one last glimpse of their bright yellow petals, faces fully locked towards the sun. I needed to see them one last time. I needed to see this powerful sign of hope more than ever this year.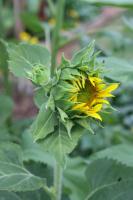 These sunflowers have been my teachers for the past four years. Their first lessons happened by mere chance, with seeds dropping from our birdfeeders and surprising us with their strong stalks and wide leaves that relentlessly followed the sun. Their very existence appeared to be to soak up as much of the sunlight as they could so they could produce bright, vibrant flowers.
They grew, and I learned. If only my life could be like theirs: intently focused on God's Son, stretching and growing in any direction needed so that I could absorb the maximum amount of Christ's light. If only my search for the light could produce such fruit as theirs.
These wise teachers taught me that my life could absorb the light of Christ and that Christ's light in my own life could offer something to others.
Watching them begin to wither, though, showed me their most valuable lessons. As the petals began to brown, the flower heads would droop and turn downward, facing the earth. Their apparent death dropped thousands of seeds into the dirt, holding potential for new life next year.
This was the new life I needed to see this year. I needed to see the full Paschal Mystery played out one last time in my sunflowers. I needed to see that despite their Good Friday period of withering and dropping seeds and their long Holy Saturday period of hibernating in the ground for a year, that their period of new life, their Resurrection, would come.
My sunflowers are blooming again, locked on the light, the source of their nourishment. They are reminding me, as they have for the last four years, that new life will come, even in this long period of transition.