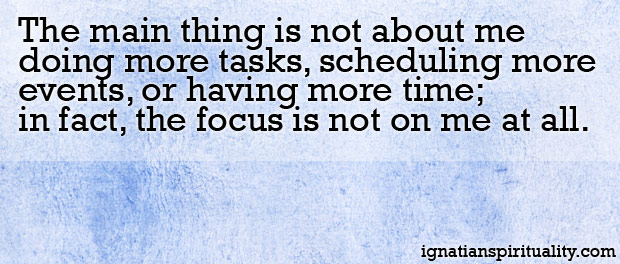 This post is based on Week Six of An Ignatian Prayer Adventure.
My boss recently shared an oft-quoted adage from the corporate world: "The main thing is to keep the main thing the main thing." I welcomed the timely reminder, as this advice caught me during a week I'd felt overextended with work projects and overcommitted in my personal life. I'd needed a reminder to keep my focus on my main goals—and allow myself to let go, if only temporarily, of secondary priorities.
At this point in Lent, I find myself in a similar place—more busy than full, more strained than challenged, and on many days, just plain tired from all the juggling. I find myself craving solitude and restfulness. I imagine joining Jesus in his ministry but also accompanying him as he retreats after a long, busy day.
This week's prayer invites us to focus on the "main thing": knowing, loving, and following Jesus. I feel invited to remember that the main thing is not about me doing more tasks, scheduling more events, or having more time; in fact, the focus is not on me at all. Rather, as Paul Campbell, SJ, says, "It's about learning to love Jesus more. It's about learning to respond to Jesus more. It's about learning to be loved more."
The main thing is not a thing at all, but a person—Jesus. As we continue to journey through Lent, may we more wholeheartedly know him, more deeply love him, and more readily respond to his call.