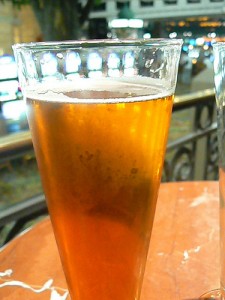 Iowa newspaper editor and brewer J. Wilson ended a 46-day Lenten fast during which  drank only beer and ate no solid food.  Wilson, a devout Christian, ended his fast early Sunday morning with a bacon smoothie.  Since Ash Wednesday, his sole nourishment has been Illuminator Doppelbock beer, brewed from his own recipe.  Early in Lent he drank four glasses a day, but had to increae it to five glasses to keep up his strength.
Wilson calls it a fast where he consumed only "liquid bread and water. "He  blogged about his experience at Diary of a Part-time Monk.
Image by
Tim Pearce, Los Gatos
, under
Creative Commons license
.