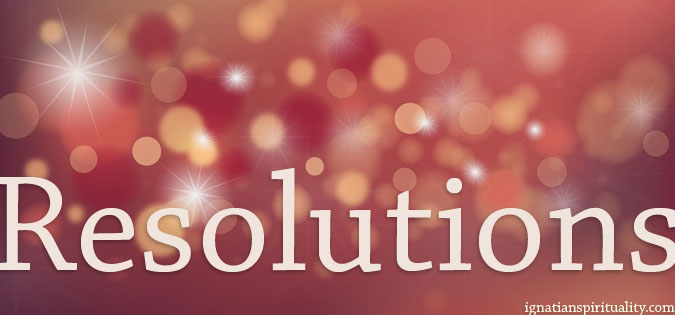 Here are three New Year's resolutions grounded in the counsel of St. Ignatius Loyola.
1. Give others the benefit of the doubt.
Ignatius said to be, "more ready to put a good interpretation on another's statement than to condemn it as false" (Spiritual Exercises 22).
What I am tempted to do: Correct others when I think they are wrong. After all, perhaps I am pretty sure I know the truth, especially if it is on a topic about which I am passionate. I am also too old to think that others' bad behavior always comes from good intentions. It doesn't. Shouldn't I care about justice and truth?
Why Ignatius is right: Ignatius went on to say that we don't have to accept passively what others say or do, but we ought to ask questions as to why they believe what they believe or do what they do. This opens up genuine dialogue. Ignatius also said if after this, a person is still in error, we can correct them, but always with kindness. Even in committing unloving or unjust actions, there is still a human being who is lovable in the eyes of God. Kindness expresses that truth.
(Also, I could be wrong, as much as I hate to admit it.)
2. Resist desolation.
In times of desolation Ignatius tells us to redouble our efforts to pray, increase penitential acts, remember times of consolation, and stay the course with decisions made in those past times of consolation.
What I am tempted to do: Do I have to? When I am in desolation, I often want to crawl under a blanket and never come out from under it, or worse, expect someone else to help me survive my desolation. Why do I have to do penance when I am already feeling so badly? May I have some extra cheese puffs? Instead of praying extra, can I just sit in the back pew of the church and glower extra hard at the cross? Would that count?
Why Ignatius is right: Consolation feels good and desolation…well, it feels awful. But both are part of spiritual development and maturity. Desolation reminds us that God gives consolations as a free gift. We don't deserve them or earn these graces, much less create them ourselves. The movement of consolation and desolation develops our humility. Desolation can confuse our decisions, so it is best to stick with those decisions made under the grace of consolation and remember that consolation will come again.
3. Follow God's will without condition, that is, freely.
Ignatius says that any process of discernment ought to begin with total freedom, that is, a willingness to follow God's will, whatever it is.
What I am tempted to do: Control God. (Note to self: not possible.)
Why Ignatius is right: Following God's call is often risky. It requires trust, and although we may have had our trust in other human beings damaged through their breaches of fidelity, God is reliable. God is wholly trustworthy. Whatever I resolve for the year ahead, let it be grounded in God's will and not my own.