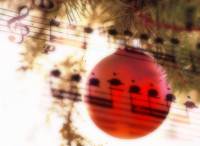 I have to admit that I've slowly been working Christmas music into my music listening in the last couple of weeks. Every year I hear the same complaint that it's too soon to be listening to Christmas music, that I should wait until at least after Thanksgiving. "Don't get ahead of yourself," people tell me.
It's not that I'm trying to get to Christmas sooner or resist living in the moment. I embrace the Halloween fun. I'm engaged in my family's Thanksgiving traditions. And when Christmas does come I'm completely present to it. What gets me listening to Christmas music so early is actually something bigger than Christmas Day.
Christmas music indicates to me a change of season. We move from the independence of the summer, the trips to the beach, the sunbathing, and the "me time" into a season where family becomes a more central focus. The last three months of the year bring loved ones together. For me Christmas music represents the nostalgia of holidays past, of a time where God is made present in those special moments with family and friends. It has the same effect as sweater weather, pumpkin pie, and eggnog. These things are all part of the sacramentality of life. Certain things help us find the presence of God in the day to day.
So as the first pinch of cold is felt in the air and as gingerbread lattes appear, I remember who and what those feelings and tastes were so strongly tied to last year, and I look forward to this year. I recall the graces of yesteryear and anticipate those yet to come this season. And by winter's end, the sacramentality of new buds, warming days, and beach music lead me to the graces of the next season in the life God has given me.