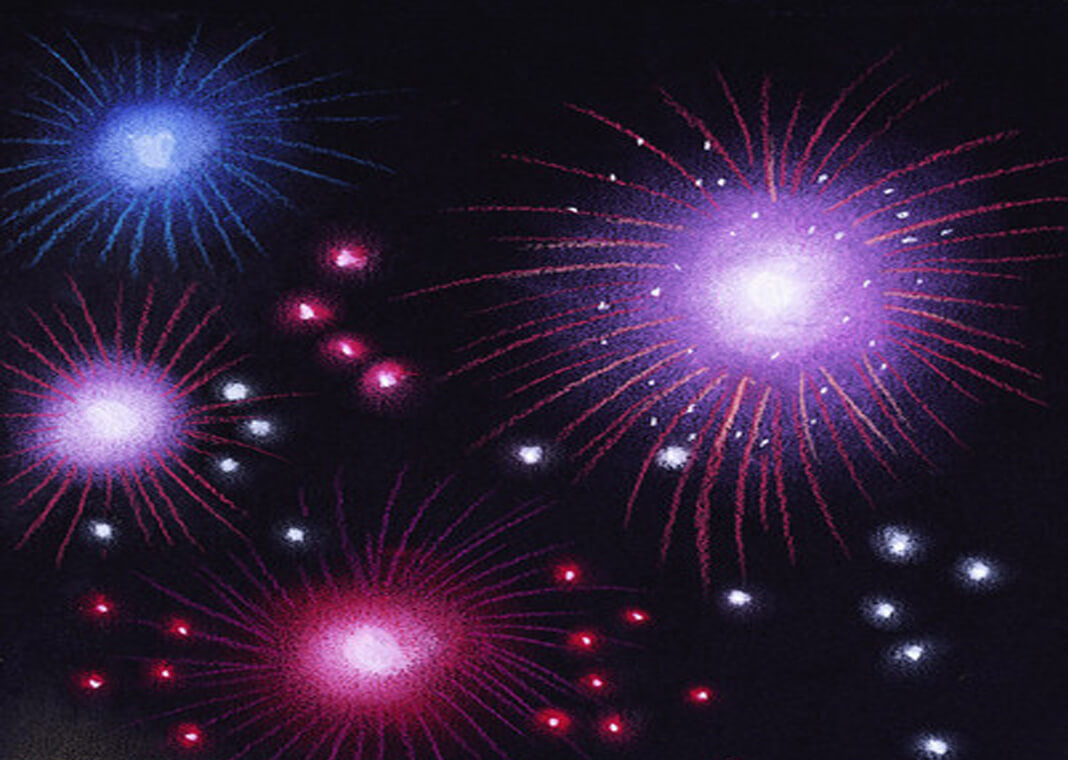 This post is based on Week Six of An Ignatian Prayer Adventure.
Editor's note: This article was written before we started practicing social distancing to avoid the spread of sickness. While we can't visit theme parks right now, the lessons children can teach adults are as relevant as in Jesus' time.
Our family stood outside our hotel across from a major theme park with jaws slack as we watched an over-the-top fireworks display. Streetlights lit the curb like day, but the "sky flowers," as our three-year-old granddaughter called them, grew in intensity, speed, and color.
"Are you waiting for the bus?" a woman asked us. She seemed oblivious to the thunderous explosions above her head and our awestruck faces. I could only shake my head no and continue staring upward incredulously.
None of the four grandchildren with us that night had ever seen fireworks like this—so close, overlapping, and rapid.
"That is a terrible place to stand," a woman passing by criticized us. Did she not see the children's uncensored joy or the fireworks themselves? People rushed past us without looking up. They were headed somewhere, and we were simply in the way.
The children took no notice of these interruptions and critics. Looking up, they saw only miracles of light and diversity. I thought about Jesus saying that the reign of God belongs to children (Mark 10:13–16). Jesus, how do I follow you more closely by imitating the examples of my grandchildren? They stood transfixed by beauty others missed. Their sleepy faces reveled in the night.
Wonder. Amazement. Awe.
The love billowing over in my heart for our family and the sight of the peacetime fireworks allowed me to forgive easily those who saw nothing but their own needs. I was seeing my own agenda, too, really, because I was focused on enjoying this unrepeatable moment with my family.
We adults will share the joys, skinned knees, and discoveries of children. Their astonished excitement and laughter are, thankfully, contagious. Children may be self-absorbed, but they also have amazing trust in the adults who care for their needs, protect them, and feed them.
I wonder if this remarkable trust is what Jesus meant when he said his reign would belong to children. His enigmatic statements often have multiple interpretations. Perhaps Jesus was primarily teaching his disciples never to turn anyone away from God's love, even if they seem small, insignificant, or unworthy to us. I notice my grandchildren are very good at welcoming people different from themselves.
Like most children, my grandkids are open to receiving something new. They're willing to believe the man in the suit really is a cartoon character or that mechanical birds really can sing. They're vulnerable and free to sing publicly at the top of their lungs. They're eager for new experiences and excited to test the limits on the highest roller coasters.
Jesus, I want to learn from the children how to love you freely and more unconditionally, not through private prayer or worship alone, but when I meet you in the people around me. And I want to help all your children to "Look up!"