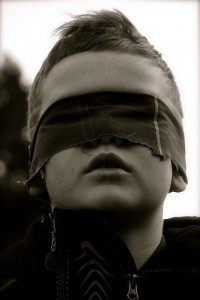 Sometimes we are blind to what is right in front of us. Recently at our parish, we watched two altar servers who had fun all through Mass. It may have been the first time they had served Mass. Or maybe they had just gotten really comfortable.
They talked. They laughed. They slapped their legs with the cords of their server garments. They pointed to their friends. At one remarkable moment, one of them half stood and shot a wave over his head to a pal he spotted in the back of the church.
They thought that because they sat behind the priest, he couldn't see them, which is true. Our presider had no idea. But they were blind to the fact that the entire congregation was facing them—including their parents. That is a particular kind of blindness, but I suspect the kind you only have once.
All of us are blind to things from time to time, but I suspect the biggest thing we don't see and can't always feel is how God delights in us. Fr. Greg Boyle, SJ, quotes Anthony de Mello, who wrote about how we might meditate on how much God loves us: "Behold the one beholding you, and smiling." Fr. Greg adds, "It is precisely because we have such overactive disapproval glands ourselves, that we tend to create God in our own image. It is truly hard for us to see the truth that disapproval does not seem to be any part of God's DNA. God is just too busy loving us to have any time for disappointment."
And, God may be still chuckling about the altar servers at Mass last week.
Image by
Lee Carson
under
Creative Commons License
.