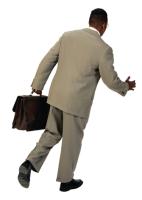 If you're reading this blog, you know that finding God in all things is a big part of Ignatian spirituality. But finding God in the boring parts of life is easier said than done. Here are five ways (aside from the Examen) to find God in all things.
Micro-Awareness—This is not just trying to be aware of the present moment, but rather letting each small action you take become your primary purpose in the moment. If you let something as simple as pushing the power button on your computer or walking up the stairs be done with intention and awareness (rather than letting routine get the best of you), you'll find a new holiness in those mundane tasks.
Journal—Writing down the experiences of your day as well as your thoughts and feelings is a kind of Examen, but oftentimes the act of writing uncovers unseen moments of God's presence you initially missed.
Do something the "old fashioned way"—Technology and fast expectations can often close the door on our awareness of God. For a change, walk to someone's desk instead of calling, handwrite a letter instead of e-mailing, walk to the store instead of driving, or take the train instead of flying. The change of pace may give you a more meaningful interaction or experience. And slowing down lets you acknowledge God's presence more easily.
Listen—When was the last time you really listened to someone without trying to think of what to say next? You'll be surprised what you hear if you actually listen—to a friend, to the natural sounds around you (try turning off the radio when you drive), or to your own conscience. God speaks when we pause long enough to listen.
Say "God is here"—This idea comes from UCC pastor Jane E. Vennard. She says:


Practice saying "God is here" the next time you are assaulted by your neighbors' quarrelling, see someone carelessly toss trash from a car, get drenched in an unexpected rainstorm, or bite into a mealy and tasteless apple.

From his own experience, Saint Francis of Assisi learned that the deeper lessons of God came when one embraced all things, even that which isn't beautiful.

Sometimes saying "God is here" is the best way to snap into an awareness that God dwells not just within you but alongside you in every moment, mundane or grand.
I attempt to find God in something new each week at GodInAllThings.com.
Andy Otto credits his relationships for a strong and ever-growing faith in God. After spending nearly three years as a Jesuit he came to a deep appreciation for the practical application of Ignatian spirituality. He currently lives in Boston and works as programming coordinator for CatholicTV in Watertown, MA. Andy has worked as a hospital chaplain, has created and led an Ignatian prayer program at two Jesuit universities, and has even worked at Walt Disney World.
Latest posts by Andy Otto (see all)