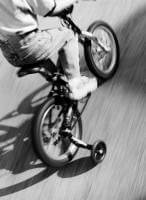 I pushed a double stroller and followed Batman and a ballerina on their training bikes today.
The course is tricky for a training bike, because without the proper velocity, the biker gets stuck between the missing pieces of the neglected sidewalk. The training wheels rest on the solid ground on either side of the gap while the bike wheels spin through the puddles. My Batman and ballerina pedal faster in these moments and cry, "Mommy, help!" Still, they do not avoid the next puddle after I push them out of the last. They go to them because they want to make tracks.
I am tense because the walk is taking longer than it should. Being present in these tiny moments of life is most challenging to me. It requires that I shift my attention to what is at hand—the grace of this moment—and away from what I assumed. On our bike ride, it is the puddles that matter, not the distance.
This irks me, because I need to engender patience and accept the moment. I don't really want practice those things. I grow more annoyed because I wish I simply were the patient and in-the-moment person instead of having to work towards it.
There's another puddle and push out. Batman is especially happy this time, because the spin allows for his treads to pick up the heavy track-making ingredients sitting near the bottom of the puddle. This time I laugh, because I imagine God making it very clear to me.
My spiritual practices are the track-making agents in my life. They allow for my movement, when it comes, and for the impressions I can leave upon others when I have that privilege. I am in transit and collecting what I need to continue. What do your spiritual practices do for you?