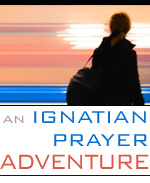 We begin our online Ignatian Prayer Adventure by reflecting on God's unconditional love for each of us. Then Days 3 and 4 introduce a theme that will recur often: the importance of achieving spiritual freedom. The week ends with three days of reflection on the First Principle and Foundation, St. Ignatius's meditation on the purpose of life.
Begin with the Anima Christi
Anima Christi (Traditional Translation)
The Anima Christi ("Soul of Christ") was a popular prayer in Ignatius's day. Ignatius does not include the prayer in the original text of his Exercises, but he does refer to it several times. Many later editions of the Exercises include this prayer at the beginning. It serves to remind us that Jesus Christ is central to the Exercises.
Day 1
Day 2
Day 3
Day 4
Day 5
Day 6
Day 7
Additional Reading for Week 1
A Short Course on Prayer
Distractions in Prayer
Images of God
Bloggers' Reflections on These Spiritual Exercises
Reflections by Paul Brian Campbell, SJ, Vinita Hampton Wright, and Jim Manney:
An Ignatian Prayer Adventure Begins
Our Essential Nature
Becoming Free
Does God Have a Plan for Your Life?
Friday's Reflection: You Are Loved
---