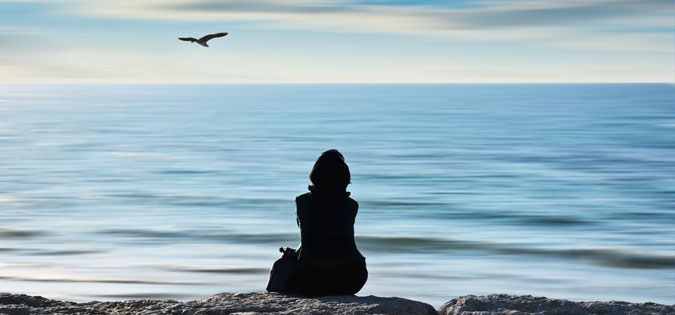 Jesuit theologian Walter Burghardt once described contemplation as taking a "long, loving look at the real." That sounds lovely. But what does it mean for you and me—people who most likely are not preachers, Jesuits, or philosophers?
Let's take that phrase in three parts: long, loving, and look at the real.
Long. This is a sustained gaze, not a glance. It requires time, but it also requires focused attention. So whether I am looking at a Bible passage or reflecting on a conversation I had this morning, I set aside some uninterrupted moments. I take some deep breaths; I settle down and get comfortable. I give myself time to contemplate, and I also give myself time to become distracted and then bring myself back to contemplation. I am not in a hurry.
Loving. This can be tough. Especially when I'm contemplating something about my own life, I tend to be more judgmental than loving. If I contemplate in a loving way, this is what happens:
I look but do not judge. My purpose is to become absorbed in what I am contemplating. I am contemplating because I understand the need to be open to it without "doing" anything.
I look with the expectation of a good outcome. No matter what I'm contemplating—a conversation, a problem I face, a dream I have, a task I'm discerning—I expect that the Holy Spirit is in the middle of it and will show me what I need to see and then equip me to respond in the best way.
I look with the understanding that the world is flawed and that forgiveness is necessary every day if I am to move forward and grow spiritually. Today I might need to forgive someone else, or I might need to forgive myself. But I begin my contemplation expecting to bump up against something that calls for mercy and grace.
Look at the real. I think this is even tougher than the love part, because we are so skilled at fooling ourselves. I have so many defenses against the truth that sometimes prayer or contemplation is, first of all, an exercise in bringing down those defenses. I avoid "the real" because:
I'm afraid that reality is unfixable.
I'm afraid that I have messed up in some way, and I don't want to experience guilt or shame.
I'm afraid that, if I see the real, I might have to change or do something really difficult.
These three possibilities might come to pass. However, the Real that overwhelms any and all of them is the eternal and fathomless love of God. We might picture it this way: I am one gardener on a huge estate, and today I am pruning, weeding, and transplanting. It's hard and dirty work, and until it's completed, my area looks like a wreck—tools everywhere, yard waste piled, dirt spilled. That's "the real" for me. But in the middle of all this, I stand up and look around me. For as far as the eye can see, lush gardens, fields, forests, ponds, and streams form a landscape of glory and fruitfulness. This is the Real. In the midst of the glory and beauty, my patch is in disarray and I'm full of aches and complaints. But my real gets lost in the Real.
When we take a long, loving look at the real, we see the vast landscape of divine mercy, grace, and fruitfulness into which our single lives are planted. We contemplate our experience within God's larger gaze, which shines over every moment of every day. In the safety of that loving gaze—as God takes a long, loving look at us—we can grow courageous enough and hopeful enough to look honestly at this moment, this problem, this hurt, or this dream. As God contemplates us, we can contemplate ourselves and know that we, even here and now, are loved and beautiful.