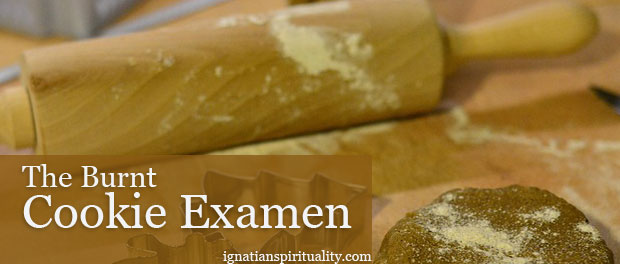 St. Ignatius taught the valuable spiritual practice of praying the Examen daily. When I sit down at the end of the day for my own Examen, I always wish my review would turn out like a little gift—all wrapped up, tidy, and cute. I wish I could review my day and see my perfect actions and God's very obvious actions throughout my day.
In reality though, this romantic notion is rarely met, because I'm not living in a spiritual fairy tale. In fact, some days, the only place I see God's action is in the accomplishment of maintaining sanity and composure when things don't go as planned!
St. Ignatius knew this. He encouraged his followers to examine the day honestly and urged them to see the workings of God even in the nitty-gritty aspects of daily life.
So some days, my "Mom's Examen" goes like this:
Lord, here I am in your presence.
I'm having a hard time with gratitude right now so please, Lord,
help me to see past the burnt cookies,
spilt flour,
and milk too.
Piles of dishes, and
mountains of laundry too.
Soggy soccer gear,
bags of groceries on the floor.
Squeaky strings permeating the air.
Kids' tantrums,
and grandpa's too.
My breathless frustrations
and imperfections.
Because, Lord, I know that you are all good,
and you are with me through it all.
Each moment,
each day,
a gift.
I offer you myself,
my efforts this day,
so imperfect, yet
so true.
I offer them to you, my God,
who sees beauty
where I see mess.
Who makes all things whole,
and nothing less.
Remind me, Lord, of the privilege
I have in serving you
in the family,
in the mundane.
Remind me, Lord, of the gift of
food that makes the dishes dirty.
Machines and harnessed power
that wash the dishes
and laundry too.
You, Lord, who makes a symphony of a practice session.
Gourmet meals of burnt offerings.
Harmony from dissonance.
Open my eyes, Lord, to see you in the mud from the field.
You, in the warmth of those around the hearth.
Where I have failed today
help me to do better tomorrow.
For where your touch is,
there is Grace,
Life,
Beauty,
and Love.
And you know, Lord, I need your Grace,
your gentle caress,
for imperfect me.
Imperfect
and loved.