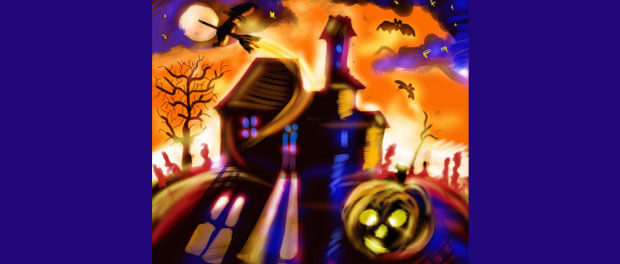 Whether or not you have children, it's hard to escape the Halloween decorations and festivities this time of year. Here are my thoughts on why we should attend to this holiday.
Halloween has become just another fun day for kids. Yes, there are some dark origins of All Hallows Eve, but the little folks that come traipsing up your sidewalk dressed as monsters, Disney characters, and comic book heroes do not connect their good time with anything but dressing up, playing scared, and pulling in a great load of sweets. Don't burden children with your own ambivalence about the holiday.
It provides a way for you to get to know your neighbors. Be the really cool house with the good treats. Greet the trick-or-treaters with enthusiasm and identify them by name if that's what they want (and often, the little ones want you to know who they are). Take a moment to chat with the mom or dad or older sibling who is accompanying the younger kids. Introduce yourself if there's been no formal introduction. You might take it a bit further and make your living room or front porch a place for adults to come by for cider and treats and to sit for a bit.
It can become a teachable holiday. Kids might venture to ask spiritual questions around this time. Is there really a devil? Do ghosts haunt places? Should they be afraid of some stories they hear this time of year? Many of us follow a specific spiritual tradition, and this is a great time to connect our beliefs to real life. For Christians, Halloween is a good opportunity to talk about our tradition of saints, about our views of death and resurrection. And we can temper the more popular stories out in the culture. The Christian (and Jewish and Muslim) tradition does believe that evil exists, and we have guidelines for how to deal with it—and how to avoid it.
Halloween helps us confront life's dark side. Or, we could put this in more psychological, Jungian terms and call this the shadow side. We play at being frightened on Halloween because fear is something we deal with every day. It's especially important for young people to learn to confront their fears and name them rather than repress and deny them. We dress up like skeletons, ghosts, and ghouls in part because it helps us face death. Sometimes we use a costume to express an aspect of our personality that in a normal day does not feel so safe or comfortable. Halloween can allow us to do some work that is psychological and spiritual, and do it in a context that is safe and lighthearted.
It can open the door to faithful influence. Christians throughout history have made choices about how to be involved in the surrounding culture. Some feel that they must stand against the culture and provide a picture of life very different and identifiably Christian. Others try to blend in and be part of the culture so as to have easy access to people in order to love them as Christ loves all of us. And yet others try to engage the culture in order to change it to one more life-giving and God-honoring. Wherever you fall on this spectrum, cultural holidays present opportunities for engagement. Probably the least effective reaction to the culture is total silence, which to others appears as a lack of concern and the worst kind of indifference.
So, Happy Halloween to you all! As you encounter the ghosts and goblins, the heroes and outcasts, say a prayer of thanks for the great host of saints and angels who surround the scene, and for the ability of children to charade as pirates while warming your heart.