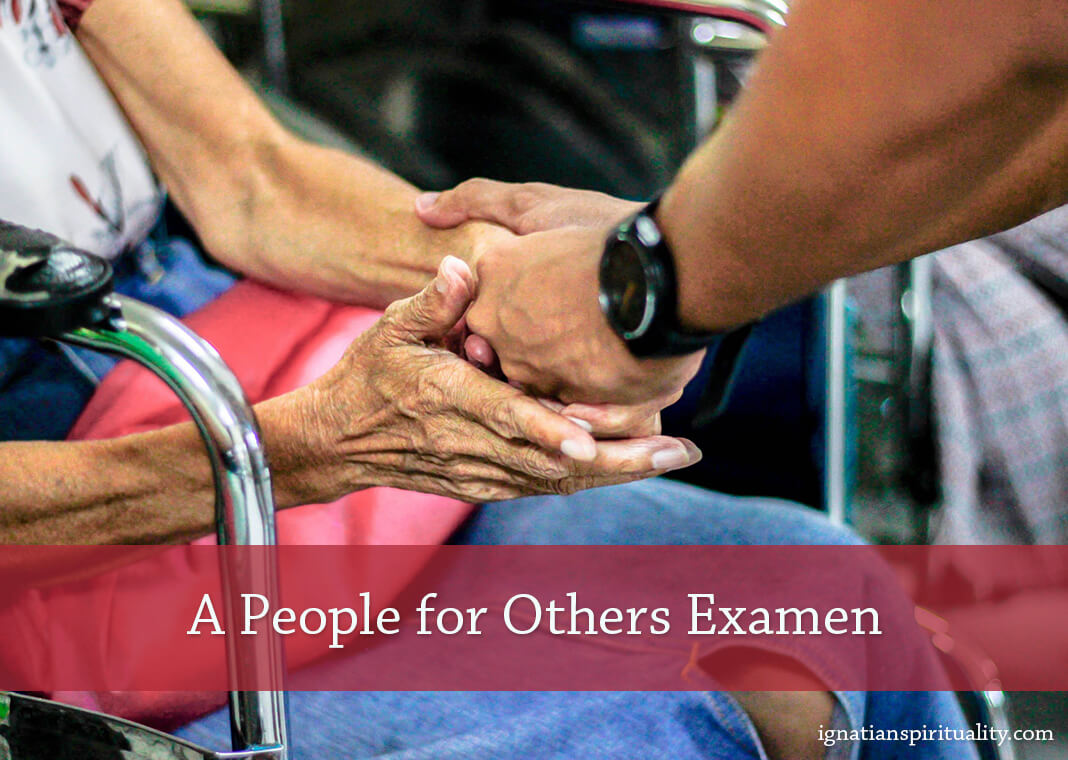 Editor's note: Throughout July, we're hosting 31 Days with St. Ignatius, a month-long celebration of Ignatian spirituality. In addition to the calendar of Ignatian articles found here, posts on dotMagis this month will explore the theme of "people for others." This month marks the 50th anniversary of Fr. Pedro Arrupe's famous address in which he challenged Jesuit school alumni to form what we now embrace as "people for others."
A primary concept of Ignatian spirituality is "people for others." In following the way of Jesus, we naturally become people who think of others, care for others, serve others, and otherwise "do" for others.
How can I know that I am consistently acting as a person for others? Well, I can begin with the simple practice of praying the Examen. I can apply to this Ignatian prayer the specific qualities that develop in the life of a person for others.
As I review the day, I look for moments when I noticed another person. That is, I shifted my focus from myself to someone else. Was I admiring this person for his or her abilities or work? Was I watching this person navigate a difficult situation? Did I see that this person needed help or comfort?
I pause in gratitude for the fact that I at least noticed another person long enough to observe what he or she was doing or going through. If I cannot remember noticing someone today, then I can confess to God my failure to look up from my own affairs long enough to see others.
I ask the Holy Spirit to help me recall the various people who were part of my life today, whether coworkers or family or strangers in line with me at the coffee shop or supermarket. Did I do or say anything to support another person today? If so, what did I do or say? How did the Holy Spirit prompt me to be a person for another?
As I recall the people I encountered this past day, allowing names and faces to come to mind, I pray for those people.
Now I think ahead to the people I will likely be involved with tomorrow. These would include people I live with or work with or people I might see on my commute—in other cars or on the bus or train with me. I ask God to prepare me to be open to those I will encounter.
We can do some version of this prayer to become more sensitive to the people around us. If a specific person or situation comes to mind, we can make that person or situation the focus of our Examen prayer.
Becoming a person for others requires that we develop habits of paying attention, empathizing, and being open to what other people might need in terms of our help, our words, or simply our presence. These habits are not difficult to form, but we must become intentional about them.
We can also focus our Examen on how others have been people for us. How has another person noticed me, supported me, or helped me? I can use examples of others' actions toward me to inspire my own ways of being a person for others.
Photo by Jem Sahagun on Unsplash.
---
Today in 31 Days with St. Ignatius, enjoy a video of Fr. Joseph Tetlow, SJ, on How God Gets Our Attention. Use the hashtag #31DayswithIgnatius on your favorite social media to share how St. Ignatius has inspired you to be a person for and with others.