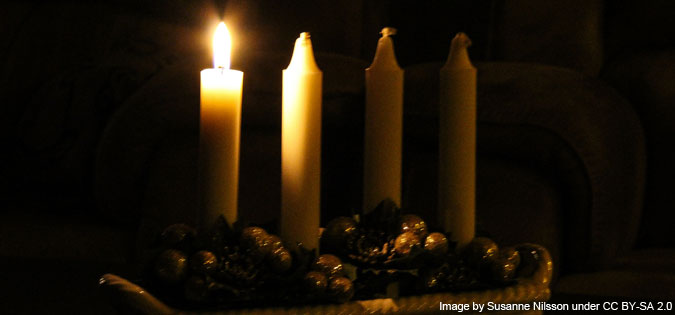 The thing about the Christian year is that it keeps coming around. Over and over again, we get to try our hearts and minds and hands at Advent, Christmas, Lent, Easter, Pentecost, and Ordinary Time. We get to dust off the liturgies and speak or sing them again. We get to try old prayers in new ways—or try new prayers on old themes. We get to pick up our symbols and phrases and turn them slowly and look at them and listen to them repeatedly and allow their many layers and nuances to speak to us.
This is called spiritual practice. So, yes, it's Advent again. But that is how it should be. We have a season ahead of us in which to rehearse and reenact the sacred story of God Is on the Way! God Will Soon Be with Us in the Most Extraordinary Way! Hope is coming; love is coming. A shining realm of peace and wholeness is, truly, coming.
We have a season in which to give our faith a workout, in which to exercise our hope muscles. Some years make that exercise more difficult than others. But it's Advent now, and, as people of faith, we are called upon to exercise our hope.
If hope isn't created for times such as these—when countries are divided, when civil war annihilates whole communities and sends refugees fleeing, when hungry children are ignored because their interests are of no interest to powerful entities, when human beings are trafficked by the thousands to be used for sex or cheap labor, when industry and wealth win over the health of the planet and all its creatures and the global community—if hope isn't created for times such as these, then why have hope at all?
So let's try Advent once again. Let's practice a hopeful way of being in the world.
Sing the songs.
Ring the bells.
Put up the decorations.
Tell the stories.
Give lots and lots to all sorts of worthy charities.
Open your home to those who need welcome; pretend that each one of them is the baby Jesus, born on the road and needing help.
Use your creative gifts: to write, bake, paint, act, make quilts or sound financial plans.
Go to church.
Go to the neighborhood hang-out or the family party.
Pay attention to the kids and welcome their very selves.
Don't leave pets out in the snow.
Don't give up prayer because life feels raw and scary.
Don't hurry through Advent because you're not terribly good at living it; just let it live in the real life you have.
Don't forget that God loves you.
And please don't forget that God loves everybody else too.
He came for us all. Together, we wait for the holy child.
Image by Susanne Nilsson (cropped) under CC BY-SA 2.0.