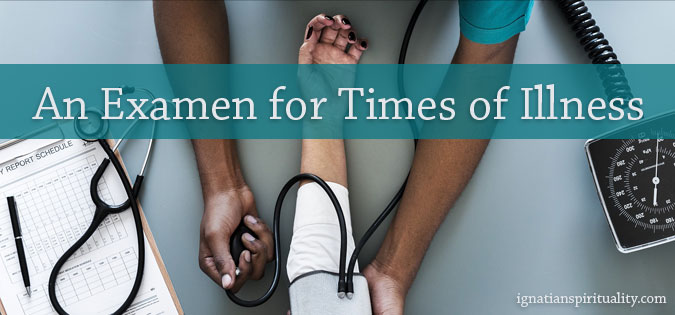 Physical illness, whether chronic or acute, can render us too distracted and exhausted to keep up with normal activities, among them prayer. Not only do pain, other discomforts, and fatigue sap our physical resources, but they also put a strain on our interior resources—our emotions, our ability to think, and our spiritual attentiveness.
And yet, we are so in need of prayer when physically distressed. While ill or injured, we are likely to make mistakes, revert to immature behavior due to frayed emotions, miss important interior clues, and descend into despair. At such times, we need to cling to prayer, not drop it.
As someone who can become incapacitated by a sinus headache, I know how little inclined to prayer a person can be when she's not feeling well. So the prayer should be easy, short, and to the point. Why not an Examen designed for times of illness?
Step 1: See yourself in God's presence, bathed in God's loving gaze. I've found it helpful to huddle on the bed and, rather than dwell in self-pity, imagine God looking down on me as a parent gazes with compassion on a child who is hurt. I curl up, cry or whimper if that's what I feel like doing, and pray something like, "Lord, I feel so bad!" This might sound like self-pity, but when it is directed to God, it becomes a statement of faith in God's concern for us.
Step 2: Bring to mind one bright, good thing from the past 24 hours. When we feel horrible, we're tempted to see only what is horrible in life. This is what the enemy of our human nature wants us to do—descend into total negativity. But in the past day, the sun has shone into your room, or you've had a moment or two of relief, or another person has done something kind, or . . . Your memory of the good is a weapon against despair. Think of that good thing and say, "Thank you, God. I know that wonder and beauty and goodness continue to do their work."
Step 3: Ask God to show you something you can improve. I say "improve" because it does not help to pile condemnation on yourself while you're suffering. And Jesus made it clear that sickness is not God paying us back for our sins. If you remember an angry remark you made to a family member, you might identify that as sin and make it right. But ask God to show you anything that's in your power that might help. Are you trying to do more work than your body will allow right now, and is this causing you anger and frustration? Have you refused the help offered by family, friends, and colleagues? Would it help if, instead of reading the letters of St. Paul, you spent a few days in the Psalms? Would you rest better if you shut down e-mail and social media two hours before trying to sleep? Alternately, your "improvement" may be as simple as repeating the phrase, "This is not all up to me," throughout the day, because you tend to think that you must fix everything and feel guilty if you don't see results.
Step 4: Anticipate what you will need tomorrow. There's another medical procedure or a long drive to the physical therapist, or the medical paperwork must be faced. Look honestly at the challenges—or, to keep it simple, one particular challenge—coming up and place them before God, asking for specific help.
Step 5: Thank God for the divine love that surrounds you and holds you up, in whatever way it manifests. Sometimes, this is pure discipline, because you don't feel loved. You may feel that God is ignoring you or has forgotten your situation. But try to say, "Thank you. I believe that you love me; help my unbelief."