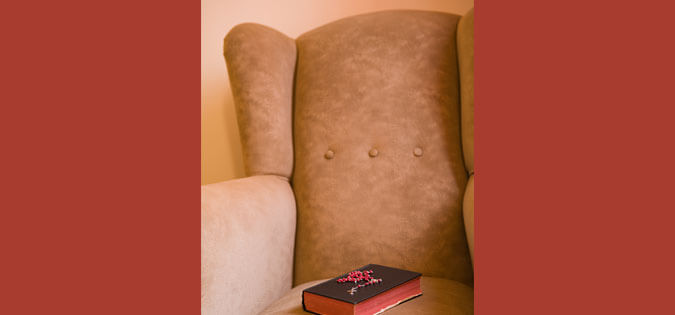 The room where I quilt, the arms of my husband, and sitting in my inherited wingback chair are some of my favorite places.
Jesus was praying in a certain place, and his friends asked him to teach them to pray. (Luke 11:1) I always focused on the words of the Our Father that follow. But today it was that certain place that stopped me in my mental tracks.
Perhaps the first teaching on prayer, for the disciples and for me, is awareness of place.
Each morning I sit in that comfortable wingback chair, an inspirational picture hanging above the fireplace I face. Some favorite icons surround me, and to my right is a sliding glass door to the backyard. An end table holds colored pencils and pens, as well as a small pad of paper where I can jot down distractions that surface while I pray. On my footstool are a Bible, two journals, and a couple of prayer books I find inspiring at this point in my life.
If Jesus had a special place for prayer, it was certainly not at all like mine. I tried to use my imagination to visualize where Jesus was praying.
What kind of place was it?
Was it carefully chosen or found at the spur of the moment?
Where did Jesus choose to pray before teaching the Our Father?
My imagination didn't get very far in this vein.
Lately, I've been distracted a lot during prayer; my mind wanders. The cell phone pings with a text message; my eye turns to a movement outside the window. Yet this chair is a designated place where I go to meet God every day. Why today am I overcome by undisciplined thoughts?
I've returned as days go by to pondering that certain place where Jesus prayed. And over time, something new arose for me.
Are you certain of your place?
Your place is with God. Always.
I have a place in God's plan of Salvation.
I assume Jesus prayed every minute of his existence. After all, prayer is relationship with God, and Jesus never left that relationship. Jesus must always have been certain of his place.