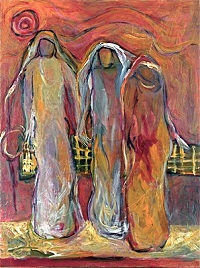 Atlanta-area readers may be interested in an upcoming retreat at Ignatius House Jesuit Retreat Center. Spiritual director and artist Claudia Campbell is leading a Lenten silent retreat during which participants will "contemplate the passion of Christ through the paintings of the 13th-century Italian painter, Giotto." The retreat is March 17-18, 2014. For details, see the retreat house's site.
Campbell uses the term, "visual lectio" to describe the main tool of her art retreats, which she defines as, "a deepening of faith that corresponds to the creative process." It's an experience of Ignatian imaginative prayer that involves engaging the senses to enter into what the artist might be saying through depictions of Gospel stories or other religious themes.
Have you used art as a means to prayer? Tell us about it.
Image: "Journey" by Claudia Campbell