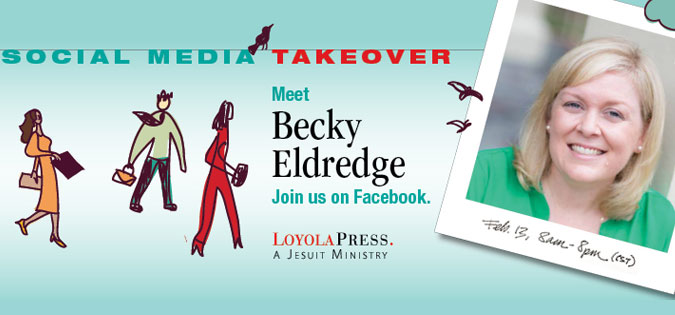 Becky Eldredge will be a familiar name to regular readers of dotMagis. Spiritual director, retreat facilitator, and writer, Becky has been a long-time contributor to this blog. Now's your chance to meet her at a special Facebook event, Monday, February 13, 2017.
From 8:00 a.m. to 8:00 p.m. CST, Becky will be hosting a "Social Media Takeover" and acting as the voice of Loyola Press's Ignatian Spirituality Facebook channel. She will appear on Facebook LIVE video to chat with you about the following topics:
9:00 a.m. Praying in Daily Life
12:00 p.m. Encountering God in Busyness
6:00 p.m. Prayer in Family Life
The event celebrates Becky's new book Busy Lives & Restless Souls: How Prayer Can Help You Find the Missing Peace in Your Life.
Stop by to join the conversation and post your comments and questions throughout the day on February 13, or start now with the pre-event discussion.