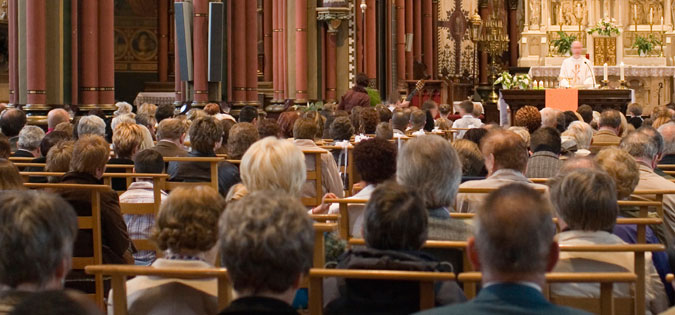 The other day at Mass we sang a song that brings me back to my youth, a World Youth Day theme song called, "We Are One Body." The song stuck in my head for hours afterward, leading me to consider more deeply what the song is really about, particularly in the context of my life right now.
The song is about community. When we sing it, we remember that we are in community with those in the pews singing along with us, and with the Church community all around the world.
The problem is, I haven't really been in community lately. Yes, I admit it. This blogger was really more of a church skipper as of late. I had some reasonable rationalizations for this, but at the end of the day, all excuses aside, I just didn't go to church much.
People sometimes tell me that they are still deeply spiritual, even devoutly Catholic, but they don't go to Mass any more for a variety of reasons. Can we really be a part of the Body of Christ when we are not celebrating Communion and participating in our faith community? Our faith should be bringing us together in shared experience. Amid all the secular and social pressures, it becomes so easy when we are off on our own to slowly drift off track unnoticed. One Mass here, then another, and then slowly things that mattered somehow matter a little less. Everything just becomes more unclear and uncomfortable.
I got a bit lost these past few months. Thankfully, I have a great community of friends—and a spiritual director who didn't give up on me—who gently helped me find my way back. I am finding that as I spend more time inside the walls of the church where I have found such joy and peace all my life, I feel a little more grounded. I don't feel quite so alone in the other struggles and stresses I have in my life. It just feels right. I think St. Ignatius would call that consolation.
Church is about community. It's how we support each other, journey together, and experience God in others. After all, as the song says, "we are one body in Christ, and we do not stand alone."