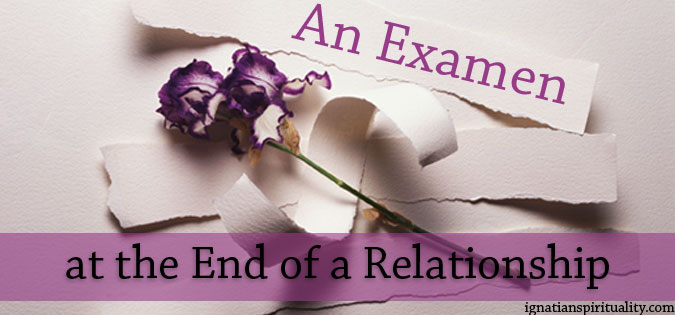 When significant relationships come to an end, whether due to geographic distance, drifting apart, or brokenness through conflict, we have the task of integrating that relationship into our memories and identities. As Christians, we are formed to be people who exist in loving community, always reconciling mercifully with one another, but at times human limits prevent this from being possible. As we seek to make sense of where God is in broken relationships, an Examen of the relationship can help.
The Ignatian Examen is designed to help one to see where God has been in one's everyday life and to help us to notice patterns, and so to discern how to act in the future. While a more typical practice is to pray the Examen daily, it can also be used to pray over a longer period of time—for example, the past year—or a specific aspect of one's life.
In praying an Examen of a specific relationship, we can start by placing ourselves in God's loving presence. Perhaps you want to imagine Jesus gazing at you with love or sitting nearby like a trusted friend, or you might imagine the warmth of the Spirit infusing the whole of your being, like a light shining gently on all. God holds all of our lives in love and invites us to hold it in love too.
Next, allow memories of the relationship to surface, and notice the variety of feelings that accompany those memories. Where was the joy and the love? Where was there sadness or disappointment? How did the relationship allow you to grow or to flourish? When did the relationship move you away from God's deepest desires for you? How did the end of the relationship give rise to one or more of these responses in you?
Then pray with one of these feelings or memories that seems especially significant, and invite God to help you to see or learn something about that moment or relationship. After sharing with God our own thoughts and feelings, we listen for God's response.
Last, end the Examen with considering how God wants you to respond. Perhaps a bitter ending to a relationship is offset by memories of positive and loving interactions that can allow a more balanced approach to the other person. Perhaps you can consider where God created new growth and brought you to greater maturity through the relationship or its end. Perhaps God is inviting you into a different way to live in the context of your current relationships.
Finally, we can end with a prayer of blessing for the other person and ask that God's love shine upon him or her.