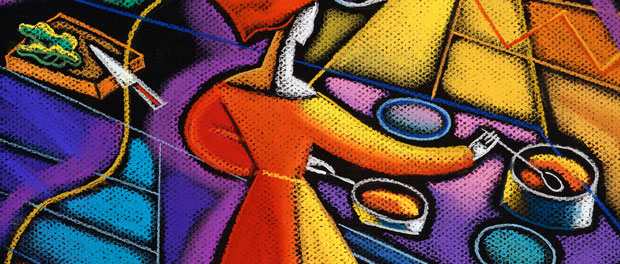 In her new book, Taste and See: Experiencing the Goodness of God with Our Five Senses, Ginny Kubitz Moyer offers us a beautiful Examen that invites us to reflect on the smells of childhood.
My reflection with that Examen opened up a world of childhood memories. I remembered how I loved the smell of my mother's cooking when I came home from school. The scent welcomed me home and let me know I was where I belonged. I also remembered holding up clean clothes to my nose, inhaling the warmth of my mother's love. I recalled what my dad smelled like coming home from work with his distinct "office scent," always with a lingering hint of coffee on his breath.
Each of these scents reminded me of when I first knew that I was loved, through the gestures of love that my mom and dad offered me daily: feeding me, keeping my clothes clean, and working to provide money for our family. The heart-warming smells I remembered showed me where I first encountered God as a young child—through my parents' love.
My mind turned then to Moyer's question: "When did you smell something that took you back to your childhood?" Instantly, I turned to the times I walked through my parents' door after a long car trip home, this time entering their house with three children bounding in ahead of me. The smells were so similar. As I opened my parents' door, my nose would inhale the goodness of my mom's home-cooking. I would hear the dryer running as if it never stopped, and smell the scent of mom's laundry detergent. Often, shortly after we arrived, my dad would come home from work, bringing that same "office scent" I knew as a child.
Even though my parents no longer lived in my childhood home, the smells in their new house I now visited remained the same. These luscious scents were often my first welcoming party as I crossed the threshold into their house after coming from another state. They beckoned me to enter the place I knew I would always belong. These smells also welcomed my children the way I was welcomed as a child, creating yet another experience of our kids encountering the goodness of God.
---
Today's 31 Days with St. Ignatius reading is The Truth and Comfort in Ignatian Spirituality by Ginny Kubitz Moyer. Get daily e-mails for #31DayswithIgnatius by subscribing to the dotMagis blog.