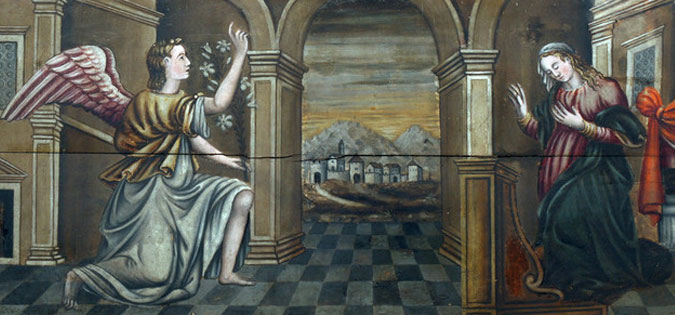 This post is based on Week Four of An Ignatian Prayer Adventure.
When preparing to enter into imaginative prayer, I always pray that the Holy Spirit leads me and even surprises me. While I can think I know what the Gospel story is about, I pray that I may hand over my imagination so that I may experience myself in the scene, to be one of the people in Mary's or Jesus' presence. Allow me to share with you some of the encounters and feelings I experienced over this week.
With the Annunciation, I pictured Mary outside sweeping and getting through her morning chores. It was a hot, dry day. As she worked, it was just another ordinary day. However, when a stranger, an angel, appeared to her and shared the news of her impending pregnancy, it was Mary's sudden movement of her hands on her hips, along with the words of disbelief that caught my attention: "But I'm a virgin!?" In this scene, I was Mary's neighbor looking out from my second-story window, down to the yard where Mary had been working. Not only did I witness the exchange between Mary and the angel, but I ran down to be with her as we digested this news together. We looked at each other as I held her in front of me, my hands on her arms. "This is unbelievable. Incredible!" And yet, the peace in Mary's voice and her manner of speaking and knowing within that this was what was happening to her, touched me, as did her courage. And then we were off, organizing all of the things that now needed to happen, including telling Joseph and her parents Anne and Joachim!
Another heart-warming encounter was the birth of Jesus. While imagining this scene in the barn, candlelight softly lighting the scene, the dank smell of moist hay and animals, I found my heart melding with Mary's. Before anyone else entered, there was a beautiful, sacred moment of family. I imagined it was me holding baby Jesus in my arms and gazing with love at his little face, caressing his soft skin, and just allowing the love to pour out. Mind you, in the eight days that followed (while waiting to take Jesus to the Temple), my imagination went to all of the practical things, like needing to feed Jesus, getting ourselves cleaned up, and staying hydrated. Joseph did his best to help and to adjust to being a new dad, under circumstances that called him to a deep trust. And let's face it, in my imagination, Jesus cried a lot at times, as babies do. And through it all was a deep outpouring of love for this baby, for Jesus.
In imagining the flight to Egypt, I felt the tug of fear and panic. I was a friend helping the Holy Family flee in the middle of the night, packing their donkey, ensuring they had supplies for the journey, hugging Mary and Joseph, and kissing Jesus farewell. "May God keep you safe," I whispered as they headed off. And I watched until I saw them no longer.
For those delving into imaginative contemplation for the first time, it can seem a little daunting. (It did for me!) However, I found that when I relaxed into the story and invited the Holy Spirit in, I soon looked forward to seeing how the story would unfold and what role I'd play within it. Pray to be surprised! You just never know what will be revealed and how the Holy Spirit will speak to your heart.