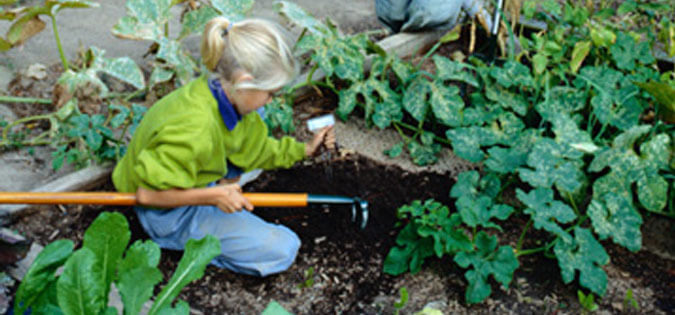 This post is based on Week Two of An Ignatian Prayer Adventure.
My mom and dad are avid gardeners. On many occasions growing up, my weekends included a chore in the yard—raking leaves, weeding (my least-favorite job in the world), deadheading flowers, or picking up branches. My dad, especially, had this way of noticing the beauty that was unfolding right in our backyard, that I often missed because my attention was focused on getting my chore done as quickly as possible.
Often, Dad called me over in the middle of one of my tasks, and I begrudgingly made my way over to him, frustrated at the interruption. My annoyance faded quickly because of what Dad invited me to notice. He had this uncanny way of seeing magnificent moments in nature: flowers peeking their heads through frozen ground, birds' nests made out of pieces of our straw broom, eggs about to hatch, or vines using anything and everything to grow and propel themselves forward. Sometimes Dad would invite me simply to pause and look up to notice a sunset or listen to the wind or feel the warm sunshine. Never a preachy man, he offered only a few sentences or a question about what this moment might teach us about God in creation.
As I would begin my chore again, I pondered what I noticed, what it taught me, and what it said to me about God. Dad instilled the gift of noticing in me and nurtured it throughout my childhood and teenage years. It wasn't until my early twenties that I realized this practice of noticing had a spirituality that supported it: Ignatian spirituality, a spirituality that seeks to find God in all things.
Today, I continue to cultivate my awareness of God in all things through Ignatian prayer tools such as the Examen and the Prayer of Consideration. With the review of my last 24 hours and the practice of pausing and noticing what is before me, God continues to break into my day in unexpected ways to teach me something new through the unfolding of creation. It is an enduring reminder to me of how God is part of my own ongoing creation too.