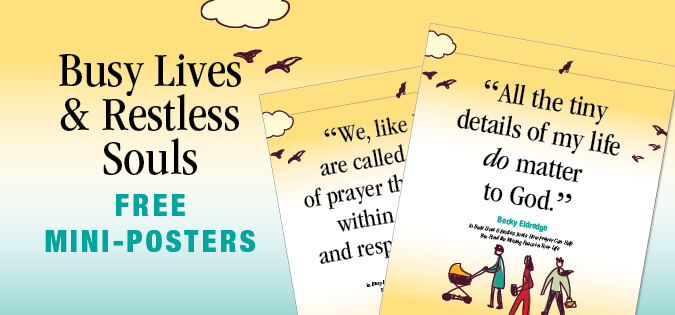 "The invitation to connect your faith with your daily life is an invitation God urges all of us to accept. All of us are invited to a relationship with God in the middle of our lives. God labors to fill us, complete us, and make us whole. God dreams that every aspect of our lives will be affected and energized by our relationship with God. And the great news is that God always acts first. The example of our entire salvation history is that God initiates and we respond. Our choice is simply this: Will I respond to this invitation or not?"
So writes Becky Eldredge in her book Busy Lives & Restless Souls: How Prayer Can Help You Find the Missing Peace in Your Life.
Download free mini-posters that will inspire you to say yes to the invitation. With quotes from Eldredge's book, the three posters are fun and encouraging additions to an office wall or a refrigerator door.
Eldredge is a long-time blogger here at dotMagis. She is an Ignatian-trained spiritual director, retreat facilitator, and writer who helps others create space to connect faith and everyday life. She lives in Baton Rouge, Louisiana, with her husband and three children.