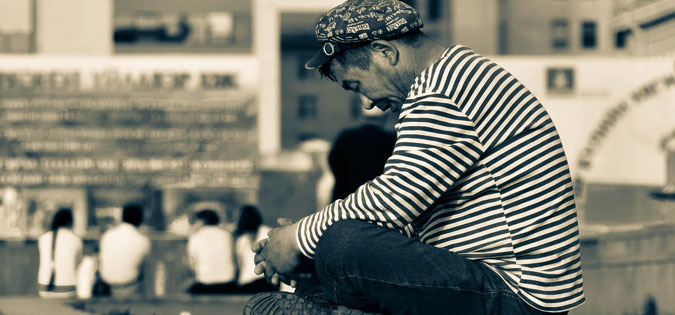 While we often rightly emphasize the role of consolation in Ignatian spirituality, I have recently been thinking more about finding God in negative emotions. I don't here mean when we feel sadness, anger, disappointment, or other strong emotions, that God comes to comfort, soothe, or encourage us. That's also true, but here I am thinking of cases in which negative emotions—that is, emotions that don't feel good—already indicate the presence of God. Here are three examples.
Righteous anger. While many of us were taught that anger is a morally "bad" emotion, I appreciate Aristotle's insight that proper anger is a virtue if it is directed toward the right people, over the right things, and for the right amount of time (Nicomachean Ethics IV.5). Consider instances of social injustice: famine after a hurricane, systematic racism, or terrible poverty in the midst of great social wealth. Anger can be a first moment of awakening that helps us to notice injustice. In the book of Amos, God expresses anger at the wealthy people in Israel for "buying the poor with silver and the needy for a pair of sandals" (Amos 8:6). We should not nurse our anger. Eventually, anger must transform into love, compassion, and patience, even for those who cause or perpetrate injustice. But anger can be a healthy initial emotion by which God leads us to pay attention to social injustice.
Sorrow. Of course, often it is not others, but we ourselves who are the causes of an injustice or hurting others. Sorrow and contrition can initially feel awful. I remember in high school goofing around with a Nerf football in the school library when I thought I'd gently punt the ball over to a friend. Instead, the ball went flying into the chandelier and shattered it. Glass fell everywhere. I felt completely ashamed and dragged myself to the teachers' lounge to tell them what I had done. Luckily, the teachers were understanding, and my initial fears of being forever condemned to a reputation as "the girl who broke the chandelier" were not realized. But sorrow and regret are good emotions when we've acted badly. True sorrow leads to saying to another, "I'm sorry." Sorrow can lead us to conversion, humility, and eventually forgiveness. In that way, sorrow is already a sign of God's action in us.
Longing. When we are away from a person whom we love, we greatly miss his or her presence. We grieve those who have passed before us. Or we can also miss a community of people after an intense shared experience—for example, in a bout of post-holiday blues. Longing can feel like having a hole in the heart. Yet these feelings of longing are also signs of our great care and connection to one another—longing already indicates love. I still miss my mother every time I say goodbye to her, since we live in different parts of the country, yet I appreciate that we have a loving relationship that means enough to long for it. Similarly, in times when God feels absent, or consolation disappears into dryness, God is still present in the very longing for a return. God can be known in the very longing for God and for others to whom we are connected in God. Longing points us toward God, the deepest source and object of our loves.
How have you experienced finding God in negative emotions?