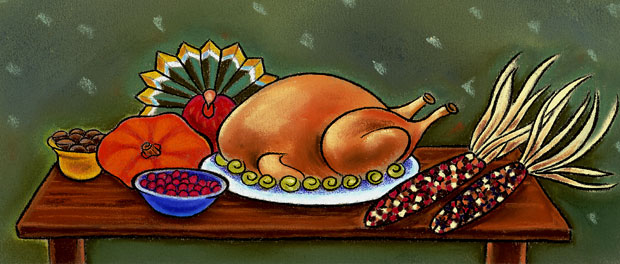 November moves us toward the U.S. holiday of Thanksgiving. Most of us will try to attend to this holiday before we get too crazy about our Christmas preparations. In some ways, Thanksgiving is the beginning of the long holiday we call the Christmas season. And it does make sense to practice gratitude for what has already happened before we move into hope for what is to come.
I grew up in a very small town in the heartland, with most of my extended family within a 20-mile radius. My mother's family was especially close-knit when it came to holidays. During most of my growing-up years, we were at Grandma's for Thanksgiving and also for a late midday feast on Christmas day. Grandma was the eldest among her siblings, and her home was the family center, so it was always interesting to watch the crowd converge. Many years, there was at least one new baby in the family. And many years, there had also been a death. So when we gathered around the table, it was rarely the same group twice. I would sit there and silently observe who was gone and who was new. Besides death, there was sometimes divorce, which took people from our table. And besides newborns, there were also new boyfriends or girlfriends, or new wives or husbands.
Thus Thanksgiving became a day of assessment, when I took a thoughtful look at my family. Some faces looked wearier and heart worn; one or two of our elders might have shown clear signs of illness and decline. We always had a prayer before the meal, and that prayer always gave thanks to God for every person present and for our many blessings. I'm not sure it's possible to be grateful until we've been truthful. My family showed up at the holiday table having fought many battles against illness or loneliness or family conflict or troubled circumstances. Our gratitude came at a price. These same people would help one another decorate the family graves in just a few more months, after the spring thaw and before the lighter, warmer days of summer. We gave thanks because we understood that every good thing matters a lot.
I don't believe gratitude is simply a smile-through-everything-and-ignore-what-hurts mentality. I don't believe gratitude looks only at what is going well. Rather, it bravely pauses and takes account of life—of everything going on—and chooses to say thank-you for the whole of it. Gratitude that issues from a Christian worldview recognizes that there is always a much bigger picture than the snapshot a person is working from on any given day. The Christian sees the redemption beyond whatever darkness we face right now. The Christian sees our capacity to endure great sorrow and trauma and grow in spite of it.
But growth and endurance don't simply happen. God provides grace, but I make choices. I grow stronger and kinder—or I grow helpless and bitter. Sometimes I think the difference between those two outcomes relies on my willingness to give thanks every day. Somehow the gratitude then feeds the hope. And hope does not get along with bitterness; one of them has got to go.
So where is that perfect point of gratitude? Where is that balanced place at which we speak the truth without succumbing to sadness and anger? And at which we relinquish our fears and hurts and welcome the life we've been given?