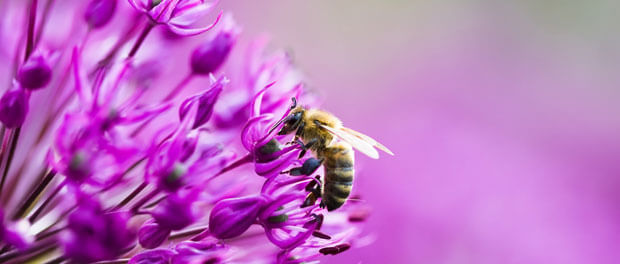 Ever since I was a child, I've loved honeybees. My grandfather raised them on his retirement farm, and I used to love to help him out at the hives. We'd go to harvest honey or simply to check in on the bees' health. Bees fascinated me for the way that their hard cooperative work could produce something so sweet and gratuitous.
This summer, in the midst of my summer retreat, I spent some time contemplatively watching bees, their heads nestled into the center of pretty yellow and purple flowers. At that point, I was discerning how to direct my time in the upcoming year. I have many interests and obligations, a lot of energy, and yet also a deep need for contemplation. I want my life to be generative and "for the greater glory of God." Yet, how to choose?
Several bees were heavy with pollen on their legs as they moved from flower to flower. I felt God direct my attention to the fact that bees pollinate as they go about feasting on the nectar that they gather for honey. They do not intend to pollinate; rather, pollination is a side effect as they move from one attractive flower to the next. God's invitation to me was to go to particular activities where I am drawn and to let go of my concerns about where I am being productive. Bees' generative capacities accompany them as they follow their desires, and God was assuring me that following my own deepest desires at work and at home would be generative—whether or not I ever see the effects of my work as a teacher, mother, and writer.
Later, I shared this with my spiritual director back home, who shared an image from one of her own past directors. A bee often hovers above a gathering of flowers and then decides to focus in on one to which it then flies down. When the bee has finished with that flower, it again hovers and zooms in to feast on the next. Applying that to our lives, for example, sometimes we are faced with many different kinds of beautiful prayers to pray, but choosing one at a time allows us to go deeper.
Like the bee, we can take time to hover and to reflect: where am I drawn? We can then joyfully choose that to which God draws us, entrusting it to God that we "pollinate" as we go.