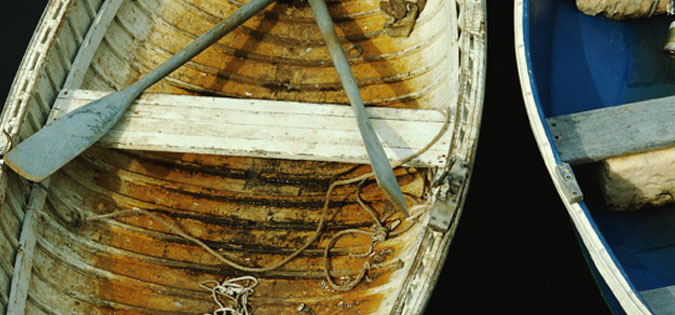 This story is inspired by Matthew 14:22, following the feeding of the five thousand.
Jesus made me get into the boat with the other disciples. I didn't want to go. I wanted to stay with him on the shore, savoring the miracle I'd just seen. Thousands of people fed! I wished I could just stand there at his side, watching.
He made us get into the boat, and I sat with my legs crossed, my hand trailing over the side. His body shrank in size as ripples of water slapped our vessel. The sound overtook the hum of the crowds as I watched people disperse at Jesus' commands. What did he say to cause the crowd to recede in waves, slowly, across the rolling hills?
His hands were outstretched in a loving gesture. Was that a healing movement, a commissioning, or an authoritative command to go back to loved ones at home? I wondered if each person felt his words in a different way—as if Jesus were speaking specifically to the need in each soul. God could do that, I knew. I surmised that each was hearing something different as Jesus spoke lovingly, yet authoritatively.
"Caleb, Ruth needs you to go home to her right now," I imagined someone hearing in his heart. And then Caleb recalled, "Oh! Yes. I promised to move those heavy rocks so she could expand our garden." Perhaps that was Caleb over there, joining the ebbing crowd.
Jesus, I don't want to be in this boat moving away. I want to stay on the shore with you, witnessing every word and miracle.
"I'm right here."
I suddenly felt the words in my heart. A surprising Presence made the Divine One known deep within me.
"I'm right here."
And I overheard the disciples in our boat talking: "Remember that time Jesus was asleep in the back of the boat? And we were afraid, so we woke him? And he calmed the sea?"
I remembered.
A hush settled over the craft as the distance between us and Jesus grew wider.
"I'm right here."
Despite my longing to stay ashore, I now felt distinctly that God was with me in that boat, wanted me there, moving to a mission that I didn't understand completely, if at all.
What am I doing in this boat? What shore will welcome me?
"I'm right here."
How can it be possible to see Jesus ministering to the crowds and know for certain that he is right here?
Each person on shore holds a bit of leftover bread, or perhaps an extra fish, in a pocket or satchel. They will take it home to others and tell of the miracle. Perhaps those leftovers will feed a family for a week. Maybe they will have disappeared from the table the next morning, like manna.
At last I am ready to turn from the shrinking dot that is Jesus on the horizon and look ahead to the unknown shore. But before I arrive there, I am blessed by the sound of gently lapping water against wood. It will be a long, quiet journey. Mild waves are one of the few sounds that invade my thoughts as I sit with the knowledge that Jesus is right here.
Right here.
I am not alone.
I breathe deeply and become aware of the present moment.
I am sitting in my prayer chair.
I think I will set a repeating alarm on my phone, and the label on the alarm will be, "I'm right here." This will remind me to examine (or Examen) the last few hours. How was God present with me despite my movements away from where Jesus stands on a metaphorical shore?