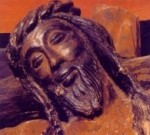 Do you not know that all of us who have been baptized into Christ Jesus were baptized into his death? Therefore we have been buried with him by baptism into death, so that, just as Christ was raised from the dead by the glory of the Father, so we too might walk in newness of life.  For if we have been united with him in a death like his, we will certainly be united with him in a resurrection like his. We know that our old self was crucified with him so that the body of sin might be destroyed, and we might no longer be enslaved to sin. For whoever has died is freed from sin. But if we have died with Christ, we believe that we will also live with him. We know that Christ, being raised from the dead, will never die again; death no longer has dominion over him. The death he died, he died to sin, once for all; but the life he lives, he lives to God. So you also must consider yourselves dead to sin and alive to God in Christ Jesus.
Romans 6: 3-11
What has Christ saved us from?  The fear that we are alone to figure out what life is to be about until we die.  The end of the story changes the whole story: we will rise with him.  Therefore we must take on the great work of love, the terrible and suffering work of love in the face of injustice and fear and hatred and all other manner of sin.  For Christ has conquered sin: he has shown us that there is to be life in the face of the suffering we take on because of sin.  Why act with love when all around us there is grasping, anger, competition, selfishness, corruption, and the temptations of false and skewed desires?  Why act with integrity, with justice, with fairness, with hope, instead of with self-interest, with laziness, with cynicism?  Because Christ has risen: he has shown us that the doorway of death opens to resurrection.  He has shown us that our hope is not in vain.  He accepted the consequence of living with love: he lived among us–we who kill those who do not compete to win.  He went to court, he carried his cross, and he died.  Smiling.  For at that moment (and perhaps even earlier) he knew that the next chapter was about to unfold, and it was going to be good.
Are you part of that story?