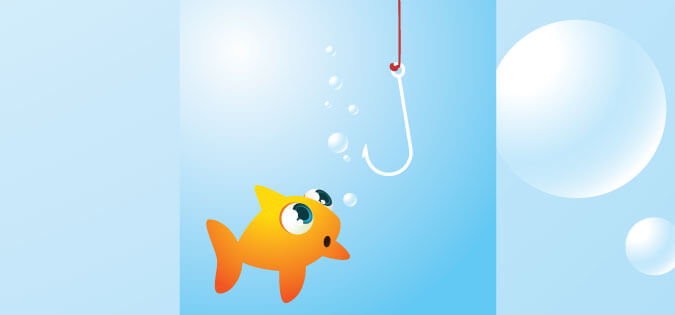 I've played a video game where you get points for hooking all kinds of fish. Accidentally catch the old shoe or tin can and points count against you.
I love the metaphor of Jesus as the living water. I want to be immersed in God's great love, swimming like a fish with the flow of God's direction, and I use my imagination to contemplate being a fish in the immense ocean of God.
Lately I've suffered from scruples. Was it wrong to take that plastic bowl from the parish hall because nobody claimed it and staff were tossing all the excess from the kitchen? The rest would go to St. Vincent de Paul. Should I keep it? Scruples disturbed me: "You've taken that bowl from the poor." Just seeing that bowl on the sink was nagging me, burning up useless energy.
I was hooked on a time-wasting, distracting thought that was draining away my energy. It was drawing me away from the sea of love where I focus outside of myself. It wasn't about the cheap bowl. It was the way that I let myself worry about it for days. What would Ignatius advise me to do? To recommit to prayer and to recognize this as a temptation from the enemy.
That fishing game came into my mind during prayer. There I was, swimming along, and I saw a delicious-looking worm. It appeared pretty good. But when I bit, I suddenly was flipped up and over that clever demon's head into the back of a boat, gasping for air. I'd made a choice that was killing a part of me.
Oh, Jesus! Rescue me! What have I chosen? I'm hooked. I'm afraid!It's silly to be afraid.
Jesus, I know you're sleeping in the stern, and I am safe when I call. You are always waiting. Scoop me back into the water, and help me remember how I got hooked, so I can avoid it in the future.Ignatius teaches me to pay attention. To pray harder when I notice that I'm stuck. To do that unpopular "p" word: penance. To learn from the attractions of a false angel of light, so that next time, I can see through the illusion. Otherwise I'll be yanked out of the immersion in God's love by self-centered inclinations. Let the devil get a tin can next time. Let me keep living in love, being aware of those worms that seek to pull me off course.
The nice thing about the video game is it's quickly over. The counter resets to zero, and within a few seconds the fish are swimming along freely again. All their past mistakes of getting hooked are forgotten. It reminds me that Jesus forgives me and lets me start all over again too.