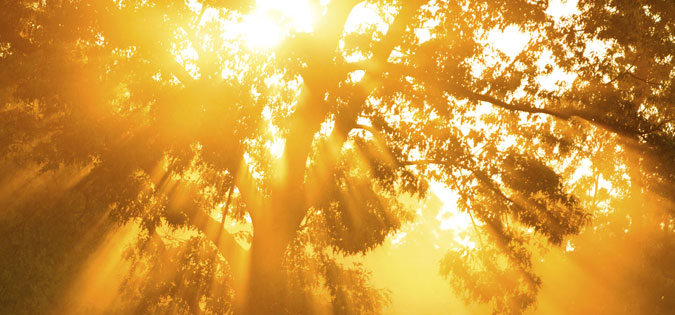 I don't know how old I will be when I have finally learned to live in synch with times of day and night. Thanks to electricity, many of us humans no longer sleep at night and move around in the daytime. I wonder how many health problems are related to that. And I understand that some jobs must be done at night, and we need nighttime workforces. But on an individual basis, perhaps each of us should look at how we participate with light and the various hours of the day and night. And how might our prayer work within those frameworks?
For instance, could the coming of morning light become my signal to pray a short beginning-the-day prayer? Could sundown trigger an end-of-day prayer? For centuries, Christians all over the world have prayed at certain times of day and even through the night—the prayers of the Divine Office. (Devout members of other faiths, such as Islam, also pray at regular intervals.) But we don't need to follow the Office to pray according to the time of day or night. In fact, many of us have tried to pray the Divine Office only to give up because it's not an easy habit to keep. It can take years to build the practice of several prayers at specific times of day or night. It's better to start more simply.
And when you wake up in the middle of the night, rather than obsess over all the stuff that you're worried about, could that night awakening become a signal to pray? I have to stress that the simpler the prayer, the better. When I make my groggy way to the bathroom at 3:30 a.m., I'm not up for complicated prayer. But surely there's a one- or two-sentence prayer that could bolster my soul in the middle of the night.
Christians don't believe it's appropriate to pray to the sun or the moon or stars or any created thing—we pray to the One who did the creating. Yet the sun, moon, and stars can inspire our prayer, can remind us to pray, can lend their light, beauty, and majesty to our conversations with God.
What is your experience with prayer that is connected to time of day or night?
---
This post concludes our series: Praying Through the Summer.