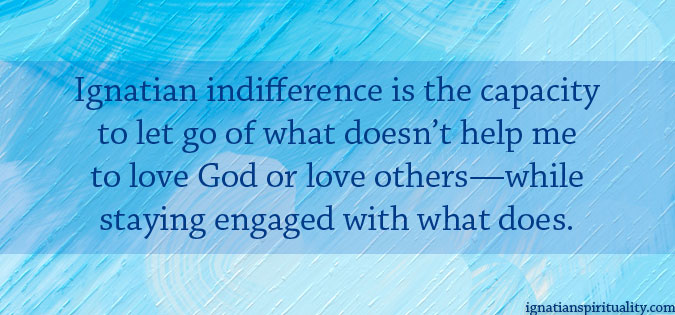 Often, we think about freedom as freedom from interference from others, but St. Ignatius understood freedom differently. For him, human freedom is a freedom to grow in relationship with God and share in God's redemptive work. This requires internal freedom or what Ignatius called "indifference." Indifference means being detached enough from things, people, or experiences to be able either to take them up or to leave them aside, depending on whether they help us to "to praise, reverence, and serve God" (Spiritual Exercises 23). In other words, it's the capacity to let go of what doesn't help me to love God or love others—while staying engaged with what does.
Indifference does not mean not caring. One can be indifferent and yet be deeply passionate. In fact, since God is love and God's redemptive work takes place through love, we cannot be indifferent in the Ignatian sense unless we love and love deeply. Each time that I became a new mother, I fell in love with my baby, in a way that led me to feel great reverence for the giftedness of this child's existence. Contemplating the beauty of sunlight sparkling off ocean waves often leads me to a sense of wonder and praise. The delight that I feel about prayerful, mutually supportive friendships leads me to feel gratitude. But indifference means that when the baby grows up, the friend moves away, or a day at the ocean is cloudy, I can still find ways to love God and people.
This is not always easy. I have been pulled off-course often. Ignatius names attachment to wealth, health, long life, and status as obstacles. Lately I have been noticing how much the stories that we tell ourselves can limit our freedom too. For example, consider how often we think, "If only I were not sick with this illness (or received this promotion, or healed this broken relationship, or…), then I would be happy."
But when was the last time that any of us said, "I am so happy because I have never had cancer," or, "Because I am grateful to have a steady job, I will never complain about any of my coworkers again"? Probably we ought to practice such gratitude. As a spiritual director once emphasized to me, everything is a gift. Nothing and no one belongs to us. Every beloved person and every good creation belongs to God, including me. And there can be a kind of delightful freedom available in learning and accepting this—even if sometimes I resist!
But I suspect that gratitude alone will still not get us all the way to Ignatian indifference. For me, freedom nearly always comes from getting back to knowing that God loves me as an unrepeatable, unique creation. From that basic knowledge of being loved, two things become possible. First, I learn that I have worth apart from any of the things or people in the world that are present or absent from my life. God loves me as I am—with all my talents, quirks, and failings. I am enough for God, and God is enough for me. Second, when God's love is at the core of my identity, then I am attentively aware that I, too, have the capacity to love, no matter where life takes me.
When we are grounded in God's love, then we can love when our relationships are flourishing, and we can love when we feel grief. We can love when we are well or when we are ill. We can always choose to love, because we are never undertaking love alone, but always in friendship with God, who always wants to create something new and good. God's love and friendship are the foundation of indifference.