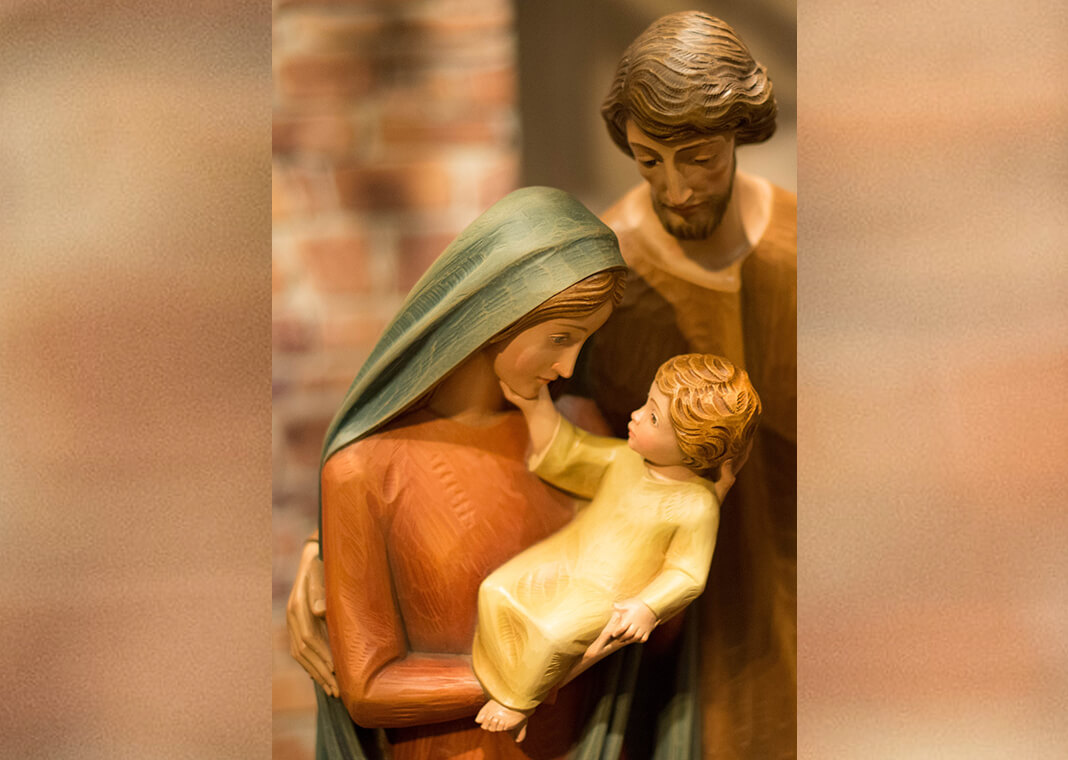 Every year, at Christmas Eve Mass, a soloist in our parish sings "Joseph's Song" by Michael Card. The simple melody conveys a sense of wonder, gentleness, and tenderness about St. Joseph that has always brought me to tears. Prior to my hearing this song, St. Joseph was, admittedly, an afterthought in my reflections on the Nativity. When Pope Francis declared 2021 the Year of St. Joseph, I decided to look more into this saint.
When Joseph first realized that Mary was with child, he logically would have concluded that she had been unfaithful. Mosaic Law dictated that one who had been proven to have committed adultery must be stoned to death. Yet, in his deep state of loss, in the face of betrayal, and what must have seemed like the death of his dreams for this relationship and his life, Joseph didn't respond in anger as one might expect.
This was Joseph before the angel came to explain the whole situation. His actions were unusually kind and gentle. And, he clearly loved Mary.
Then the angel came in a dream and explained the situation to him. It must have seemed a bit unreal to Joseph that an angel brought a message from God to him in a dream and that his fiancé was carrying the Son of God! Yet Joseph, with great faith, "did as the angel of the Lord commanded him" (Matthew 1:24).
Pope Francis, in his apostolic letter on St. Joseph, Patris Corde, details the four times Joseph had dreams that revealed God's plan: when the angel visited him and explained Mary's situation; when the angel told Joseph to flee to Egypt so that Herod would not find and kill Jesus; when he learned that Herod was dead and he should go to Israel; and when he was warned that Jesus was still in danger when Herod's son took the throne, so he went to Galilee and "made his home in a town called Nazareth" (Matthew 1:18—2:23). After each dream, Joseph continued to do as he was commanded. So, Joseph not only protected Mary's life when she was pregnant with Jesus but continued to protect both Mary and Jesus as they fled as refugees to Egypt and as he worked as a foreigner there. Even the place Joseph chose for his family to settle down and call home—not his ancestral homeland where it would have been much easier to make a home—was a response to God's message through the angel. Throughout his life, Joseph was radically receptive to God's word, and this receptivity was instrumental in God's plan. If it were not for Joseph's obedience to God, the Messiah would not have been born or survived to adulthood.
Joseph and Mary, then, shared a special bond. They had both been visited by angels, both had been invited to take part in God's great plan for humanity, and both had bravely said "yes" to God at great expense to their own plans for their lives. Throughout it all, Joseph and Mary were running on high-octane faith! And both were fueled by a complete openness to and utter trust in God.
As I contemplated Joseph's role, I realized that the fiats of Mary and Joseph—their accepting God's plan with a response of "let it be done"—were much like St. Ignatius's fiat in his Suscipe prayer. I imagine what it might be like to make this offering today, inspired by Joseph and Mary's complete openness to and profound trust in God.
A Faith-in-the-Plan Suscipe
Take, Lord, and receive all my liberty,
Lord, take my plans for my life and how I thought it would go.
my memory,
Take all of the memories that I was holding onto that influenced how I imagined I would live.
my understanding,
I really have no idea what you have planned for me, but I believe that your dream for my life is better than I could ever plan or imagine,
and my entire will,
so here is my will, too, because I need your help to figure out how all this will work.
All I have and call my own.
Here's everything else too—all my possessions, accomplishments, and accolades.
You have given all to me.
You breathe life into me every moment, and that life allows me to gather all these things that I call "my own."
To you, Lord, I return it.
So, don't get me wrong; I'm grateful for everything you've given me, but I know that what you have in mind for me is so much larger than what I can see from where I'm standing right now.
Everything is yours; do with it what you will.
I have faith that your plan is awesome and that you want more for me than I could ever imagine. I'm game. I trust you.
Give me only your love and your grace, that is enough for me.
All I need is your love and your grace. It's my lifeblood and the air I breathe. That's it!
Image by Dr. Nick Stafford from Pixabay.