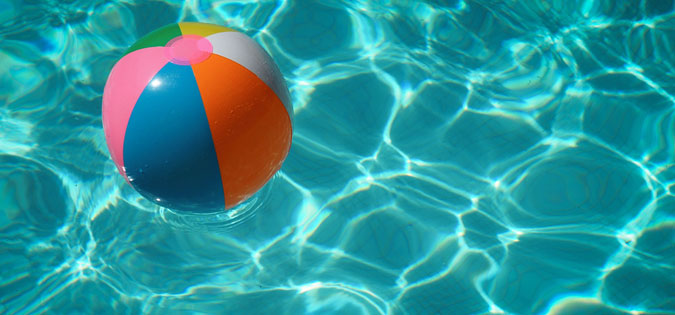 As a couple of lone parents settled in to watch their children's swim lesson through the glass and perhaps catch up on social media, I sat down nearby with one of my four-year-old twins to wait for one brother's lesson to end and his to begin. "Mommy, what's that? There's a white pole near the pool; what's it for? There's a basketball in a bucket; why? The big guy's in the water with the little guys; what's he doing?"
I glanced anxiously at the parents nearby, who appeared very engaged in their devices, and I quietly answered my son's questions while reminding him that others might not want to hear all his thoughts about the pool. "OK, Mama, I'll sit down. But wait, there's a turtle! Why is there a turtle on that sign?"
I sighed, and noticing my sigh, my son said, "I'm just so excited about my swimming lesson!" His little body wiggled and shuffled around with the excitement, an excitement that also punctuated every word he uttered as a huge smile enveloped his face. Later, in the lesson itself, his toothy grin was giving him a little trouble, as closing one's mouth is essential when trying to hold one's breath under water. Such a clear example of pure, unadulterated joy!
I wonder sometimes at what point in one's life journey unabated joy like that becomes tempered. When is the last time I couldn't sit still because joy was demanding I stand up and dance and shout? When was the last time joy in the Lord caused the same reaction in me?
I remember when I was in high school, my theology teacher's choir was invited to sing for our Mass. As the members of the local Congolese choir (a choir still active today) processed in at the start of Mass, the joy of being a part of the Lord's Supper seemed to animate every part of their bodies as they danced and sang in unison—a witness to joy in the presence of the Lord. I expect that's what God wants from us, to delight in God as God delights in us. So what keeps us from embracing and witnessing to that joy?
Several weeks ago during Mass, that same little chatterbox from the side of the pool was again having a lot of trouble containing his joy. This time, I didn't know the exact source, as he tends to be a pretty joyful kid in general. As that same big toothy grin took over his face (happy despite the many times I had already admonished him for his wiggles), he suddenly said, "Mama, Jesus!" I looked from him to where his eyes were fixed, and I saw two things. One was the figure of Jesus on the cross that adorned the wall behind the altar—the most probable source of his sudden recognition of the Lord. But it was the second that momentarily took my breath away. His proclamation had occurred at the exact time the priest held up the large host that, as Catholics, we believed was now the Body of Christ. I thought, "Yes! Jesus!" and my heart was filled with joy.
Perhaps both of those images should fill our hearts with joy—the image of the ultimate sacrifice of Christ on the cross and the sign of his continued presence in the Eucharist. Lent, a period of penitence and sacrifice, is not often seen as a time for joy. But perhaps, instead of giving something up, we can work intentionally to foster and develop joy in the Lord so that when Easter arrives, we can dance and sing and say, "Look! Jesus!"
Photo by Raphaël Biscaldi on Unsplash.