As I write this post, my inbox is filling up with e-mails due to a dialogue with family members about various faith topics. What is unique about this e-mail chain is that my family is full of ordained ministers of different denominations (Anglican, Presbyterian, and Baptist). In the middle of all of these ministers, I am a married Catholic lay minister.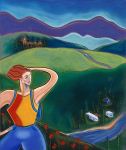 As I read the thought-provoking responses and spirit-filled conversations from my family members, I cannot help but be thankful for the gift of St. Ignatius in my life. Ignatian spirituality has helped me see and understand God at work in my life, even before I fully realized God was in my life. It is so often through the Ignatian prayer tools, such as the Prayer on My Dossier or the Examen, that I have been able to name vital moments of my faith journey that happened so long ago, most importantly the impact of my family.
I have no doubt that my family played a huge part in the person I am today and in what I feel I am called to do, both in my vocation to married life and in my vocation to lay ministry within the Catholic Church. My faith foundation was firm—built solid by my grandparents teaching my parents, my parents teaching me, and my extended family reinforcing that God is at work in our lives. My understanding of "God in all things" is a hallmark tenet of Ignatian spirituality—a spirituality I did not put a name to until my early 20s. But in reality, I have understood, since my youth, that "God is in all things," because I watched my family, despite our theological differences, savor God at work in our world.
While my family and I may not agree on all of the theological issues, we do agree on one thing: God's work in our lives is quite profound! I also know that this current dialogue is deepening and invigorating my own faith life.