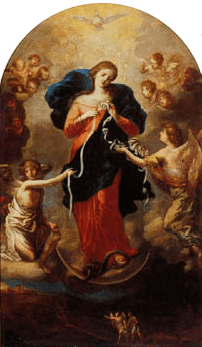 As Pope Francis settles into the tough work of governing the church, I'll bet he's drawing strength from a Marian devotion that he himself is responsible for–the devotion to Mary the Untier of Knots. The devotion is depicted by this early 18th-century painting showing Mary calmly undoing the knots in a long rope.
The painting was commissioned by a nobleman to give thanks to Mary for saving the marriage of his grandfather. The story goes that the couple, on the verge of separation, went to a Jesuit named Jakob Rem for help. The priest prayed before an image of Mary that all the knots in the marriage be loosed. Sure enough, they were. Pope Francis saw the painting when he was a student in Germany. He took a copy of it back home and promoted the devotion. Devotion to Mary the Untier of Knots is widespread in Argentina and Brazil.
I love this devotion. No jaw-dropping miracles; no thunder and lightening; no feats of spiritual heroism–just the patient, painstaking, dogged untying of knots. That's what Francis is going to be doing as pope. That's what all of us do every day.