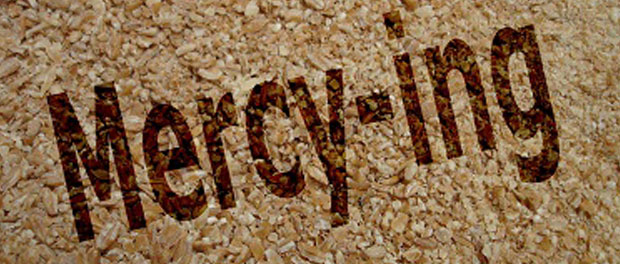 "The Word became flesh and dwelt among us."
—John 1:14
One way the Word becomes flesh and moves among us is through the particular words we—with all our limitations of imagination and vocabulary—choose to grapple with the ineffable, the infinite, the immanent mystery that is God dwelling within us.
In his interview of fall, 2013, Pope Francis reflected that the first word of his Latin motto, Miserando atque Eligendo, didn't translate well into Italian or Spanish. (Its English translation sounds no better to my ears: "by having mercy.") To capture the sense he desired, the Pope coined a new word in Spanish—misericordiando. "Mercy-ing" in English.
I'm both consoled and challenged by the Pope's notion that mercy is not just an object, but an action. Mercy-ing is a way of proceeding, a way of being in the world. Like Hopkins's "just man who justices," who, "acts in God's eye what in God's eye he is—Christ," mercy-ing calls us not just to be merciful, but to be mercy. Dauntingly, mercy-ing calls us to be Christ.
I fear when I make mercy an object to be dispensed, it all too easily turns into something I measure and tote up. Gradually, I start to see it less as a gift and more as something I unconsciously expect to be repaid. Mercy becomes a commodity, a precious possession I willingly dispense only to the worthy or the well-disposed, those in a position to repay me, to be merciful in return, or at least those who will be appropriately grateful for the boon.
The desert fathers told the story of a monk put in charge of giving grain to the poor who came to the monastery gates. A woman came and filled her basket with grain. The monk weighed her basket and then chided her for taking too much. When she left, an elder asked him why he had measured the grain he had given. Was it a gift or a loan he expected to be repaid to the last grain?
Mercy-ing calls us to forgive the unforgivable, to look tenderly upon the unappealing and the troublesome, to be compassionate to the ungrateful. It demands that we give a full measure, packed down and flowing over, and to empty our granaries again and again for those who cannot hope to repay us. It asks us to open our hands and hearts, not because we expect mercy in return, but because who we yearn to become could not—did not—do anything less for us.
For in the end, none of us is worthy of the mercy God has shown to us through his Son, the Christ, who came a-mercying, crying, "What I do is me: for that I came."