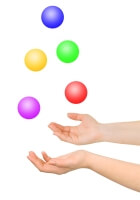 When my son, Brady, was eight weeks old, I led my first Charis retreat in the Diocese of Baton Rouge. I remember kneeling at the closing Mass, both exhausted and energized from juggling being both mom and minister, and begging God, "If you want me to continue this ministry, show me how. Is this a both/and call or an either/or call for me, God?"
The words, gentle as always, rose up within me, "both/and."
As discernment so often goes, I re-discern this call to be both mom and minister frequently. When I review my experience of the Second Week of the Spiritual Exercises, two themes of my call emerge: my call to being a mom, and my call to ministry within the Church. My call to motherhood resonated strongly with Mary mothering Jesus. My call to ministry resonated strongly with the invitation to "enact my decision to say yes to following Christ."
The Second Week of the Exercises invites us to follow Jesus by living out our unique call to be Christ's disciples. We are invited to follow Christ and let Christ show us how he wants us to live out our discipleship.
Just two weeks ago, I found myself at the end of my 12th Charis retreat with those familiar feelings that an authentic calling brings: exhaustion and energy. As I sat at our closing prayer service, savoring the graces of the retreat, I found myself overwhelmed at what God had done in my life since kneeling at the close of that first retreat: God gifted us with another child, Abby. God not only saw me through two more retreats in the Diocese of Baton Rouge, but God saw me through nine more retreats in Athens, GA. God showed me how to live my both/and call.
This is what the Call of the King is about: living our lives in a way that we are uniquely invited to follow Christ, and trusting that God will show us the way. I hope to remember this as life brings change in our lives and I fret over whether or not I will know how to continue to live my both/and calling.