Pedro Arrupe, former Superior General of the Jesuits, wrote a great deal about vocation and mission. In one writing he speaks of Christ's call as manifested in the Call of the King meditation in the Spiritual Exercises.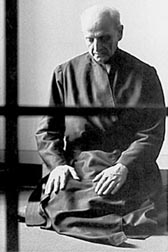 "Each one of us, at one time or another, has heard that call," Arrupe says. "Each has come to realize that, in responding to it, he is fulfilling a mission and thus giving to his life a depth of meaning which is both human and divine."
I began recalling my own experience of call during the Spiritual Exercises and how at that time I felt God calling me to religious life. But I ended up leaving the Jesuits to pursue the vocation of marriage. Did I stop following that call I received on my retreat? In the spirit of Arrupe's understanding, no. My response on my retreat was a commitment to follow Christ no matter what, and though the context of that has changed a bit, my commitment to that call has not.
This is the beauty of call: it's perpetual and endless, even though our situation and context might change. Arrupe suggests that when we respond to God's call our life becomes part of the dialogue among the persons of the Trinity. And dialogue is ever-flowing and adapting, just as our life's movements and purpose adapt and deepen.
The call of Christ is first and foremost to follow. How precisely that's done can change with time, context, and the discovery of new talents and loves. I think Arrupe understood this idea of call as that perpetual Trinitarian dialogue—never static—giving way to that deep life-meaning.