Ash Wednesday was only yesterday, so it's not too late to start a Lenten prayer program.  We suggested several last week.  Here are two more–both from Jesuits.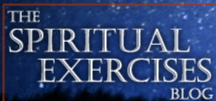 The Spiritual Exercises blog offers a daily program of prayer and reflection based on the Spiritual Exercises.  It's a collaborative effort of four Jesuits.  The reflections are meant to be read in order, so if you want to follow this program for Lent, jump in right now.  The bloggers explain the program here.
The other program is a series of seven podcasts by Fr. Pat McGrath, SJ.  They are 5-7 minutes long.  You can listen to them online or download them. He has reflections for every Sunday of Lent, Ash Wednesday, and Holy Week.