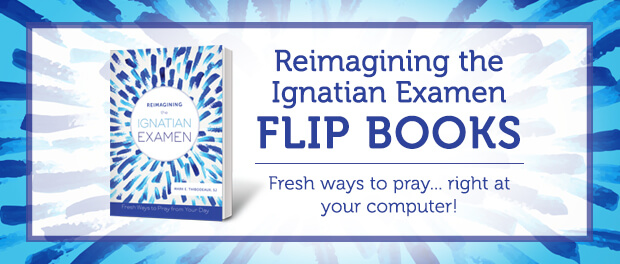 In his book, Reimagining the Ignatian Examen, Mark E. Thibodeaux, SJ, writes:
But the closer I grow to Christ, the more I want to share with him the seemingly insignificant things as well. I know that he's there, in the midst of it all, and I long to tap into his presence right there in the mud and muck, the pencils and French fries of my complicated yet incredibly ordinary life.

This is why the Examen is so awesome and powerful. It brings my nitty-gritty to God and God to my nitty-gritty.
Pray with that nitty-gritty with our new Reimagining the Ignatian Examen Flip Books. Using prayers from the new book by Mark E. Thibodeaux, SJ, the flip books bring the Examen to your desktop, laptop, or mobile device. Each week during July here at dotMagis we'll share a different Examen by Thibodeaux. This week, pray Naming the Grace.
If the embedded feature doesn't display in your e-mail or mobile device, use this link to start your prayer.