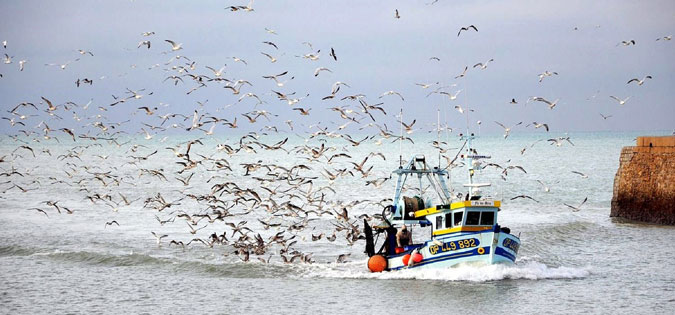 I like to watch seagulls as they glide across the sky, but as with many of God's creatures, we can have negative interactions with them as well.
This past summer on retreat, I spent much of my time praying near the ocean. One day I watched as seagulls chased down a fishing boat. A flock of seagulls repeatedly dove in, attempting to steal some of the haul from the boat as it sailed forward in the water. The scene reminded me of how it feels when evil spirits go after us.
St. Ignatius thought that a variety of interior movements of the soul are caused by good or evil spirits, and that it is important to be able to discern their origin so that we can respond appropriately. The good spirit gives "true spiritual gladness and joy" and leads us to greater generosity, hope, and love (First Rule of Discernment). God is the ultimate origin of such consolation. The evil spirit, on the other hand, leads the soul gradually away from such spiritual joy and peace and "disquiets or disturbs the soul," attempting to lead a person away from good and salvation (Fifth Rule).
As the seagulls attacked the boat with the haul of fish, I thought of many of my experiences of spiritual disturbances from the evil spirit: for example, times when I was discouraged with some aspect of myself or I thought that a problem was insurmountable. Our sense of tranquility can indeed feel like it's under attack, where try as we might to run away from them, the spirits just keep following us.
The image of the boat also reminded me of Ignatius's advice to us in times of desolation. First, the boat kept sailing forward, ignoring the gulls. Ignatius counseled that in a time of desolation, we should never change a decision made in a time of consolation but rather ought to stay the course of our previously well-discerned decisions.
Second, the best way to deal with evil spirits is to ignore their efforts to push us off-course, and even to reject them decisively through additional prayer and penance. Beachgoers know: never feed the seagulls! Not even the last potato chip from the bottom of the bag, or the gulls will never stop with their harassment. Likewise, don't feed the evil spirits!A final insight is that although the evil spirit tries to take us off-course, it is because there is always some underlying good that deserves protection. The gulls would never have bothered with the fishing boat if there were not fish on board to eat. Likewise, the evil spirit goes after something in us precisely because there is a good within. For example, a former confessor of mine helpfully commented that one way that the evil spirit goes after a person leading a basically good life is to discourage, by suggesting that the contributions are not enough. At a metaphysical level, good is more foundational than evil. All that evil can ever do is to try to mess with what is already good in what God has created and continues to create. When we experience desolation caused by an evil spirit, we can find courage in recalling that there is some underlying good that this spirit is after, and undertake renewed prayer and penance to protect that good. We can then rely on God to bring us back to a time of peace and tranquility again, so that we can bring to shore nets full of "good fish" to be shared with others.