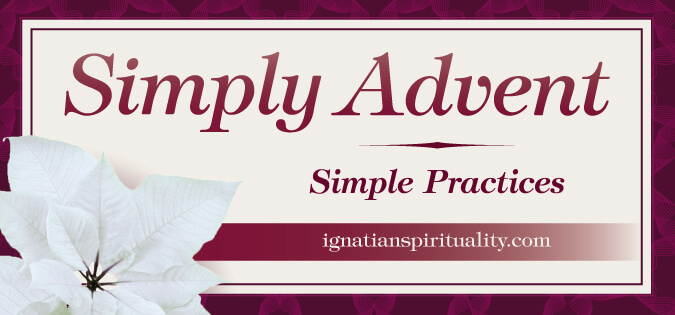 We continue trying to keep things simple this Advent with suggestions for simple practices this season.
Linger with the Nativity Story
This seems simple enough, but why not be quite intentional about taking in, once more, the story of Jesus' birth?
Read it in Scripture.
Read a children's book version of the story.
Watch a film about it, such as The Nativity Story or Jesus of Nazareth (first part).
Read about it in poetry form.
Meditate on images of various scenes from the story, whether classic artworks, traditional icons, stained-glass images, or any number of artistic renderings.
See it in drama or dance or another dramatic representation.
If you're willing to spend even more time and energy on this, write your own imaginative exploration of this story, putting yourself in the scenes and interacting with Mary, Joseph, the shepherds, and so on.
A Date with Hope
Most of us go for a coffee or tea break with friends from time to time. Why not add one simple aspect to such a date? Sometime during Advent, take half an hour for that coffee or tea break with a couple of friends or coworkers. As you're sipping and relaxing, ask one another these questions:
What gives you reason to hope?
What are you looking forward to?
Advent is, after all, about hope and promise and looking forward to what is about to come to us. We so naturally fall into conversations about what's going wrong in the world and about what worries or angers us. For just one coffee date, shift the conversation.
Please note: This conversation can have religious overtones, but that's not necessary. Even if you speak of hope in more general terms, it will still be a good Advent-like discussion.
Increase Your Generosity
You might already be giving regularly to a local food pantry or food ministry. Simply step up the giving during Advent. Instead of donating one grocery bag of items, make that two. Double your financial assistance to the charity to which you already contribute.
As you go through closets to donate clothing to the thrift store for the winter months ahead, go through your blankets and quilts as well, and donate one or two. (Do check the thrift store's policies; some do not accept bedding.)
Also, if you're able, go to an outlet store and buy up as many pairs of children's socks and gloves as you're able, and donate those to the thrift store. These items are greatly needed (at least, in areas that have cold weather during the winter), but they are not donated as regularly as some other items, because most of us use socks and gloves until they are too worn to pass along. It will be a treat for a child to be able to buy inexpensive gloves that are brand new.
Please add any of your own suggestions about generosity. We all realize, of course, that "abundance" varies from person to person. God asks that we give as we are able; the generosity is grace, regardless of the size of your contribution.