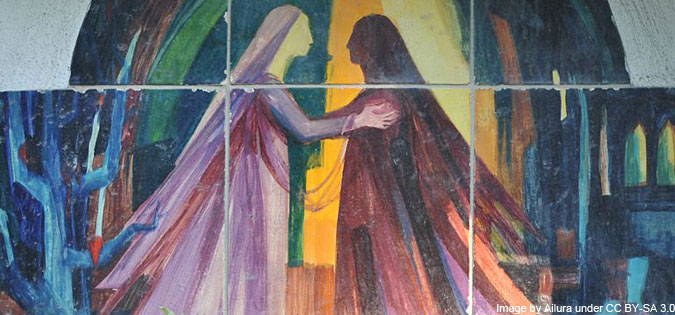 Advent is a time of awaiting the Lord. But there are many ways in which we can wait.
Zechariah awaited the fulfillment of the angel's words with confusion and doubt. Yet the Lord delivered on his promise.
Elizabeth awaited expectantly and greeted Mary with hope. And the infant leapt in her womb.
Mary awaited faithfully, pondering and trusting in the angel's reassurance not to be afraid. And the Lord was with her and within her.
Israel awaited the Messiah, remembering God's faithfulness through past ages. And the one called Emmanuel came to show that God was with them.
The world today awaits the return of the Lord, living in a mix of light and darkness, yet still believing that, "the light shines in the darkness, and the darkness did not overcome it" (John 1:5).
How do we wait? Whether we wait faithfully and trustingly, or with confusion and puzzlement, or a little bit of both, God still comes to be with us. Like Israel, we can remember how God has been lovingly with us in the past. Like Mary, we can trust humbly and hopefully that God will be with us in the future.
We wait in expectation, noticing the signs of the divine present now in the world around us. Where do we notice glimpses of the light? Who are the angels among us? And what are we pondering in our hearts as we wait?
Image by Ailura under CC BY-SA 3.0.